2012 Dutch Outdoor Pony Championships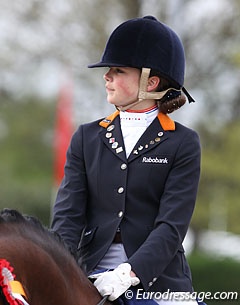 Dutch 2011 Pony team member Febe van Zwambagt and her German Riding Pony stallion Dr. Watson became the winners of the 2012 Dutch Outdoor Pony Championships held at the headquarters of the Dutch Equestrian federation in Ermelo, The Netherlands, on Saturday 1 September 2012. In the absence of the entire 2012 Dutch pony team, Van Zwambagt was given much space to take the highest step on the podium.
The riders qualified for the nationals were split into two groups for the first round and the best five combinations per group were eligible to compete in round two. Their round 2 scores determined the podium places for the 2012 outdoor pony championship.
Van Zwambagt and Dr Watson (by Don't Worry x ) won the first round with 74.7% as well as round 2 with 75.61% and were unbeatable. The combination grabbed its first national title at FEI Pony level.
"Dr. Watson was very concentrated and nice to ride," the 14-year old van Zwambagt told Eurodressage. "He did everything like he was at home." Young Febe will be competing at FEI pony level for two more years. "I know he can do a lot more and I hope we can continue to progress together."
Suzanne van de Ven and the Dutch bred chestnut pony Mister Gigolo (by Vita Nova's Hanassie) were second in round 1 (67,86%, group 2) and kept that position in the final round with their 71,63% score. They earned silver. The bronze went to Demy Kurstjens and her chestnut pony Ciske (by Composer Van De Beekerheide). They scored solid 70% marks in both rounds (71,54% and 70,69%).
Photo © Astrid Appels
Results - 2012 Dutch Outdoor Pony Championships
Round 1 - Group 1

1. Febe van Zwambagt - Dr Watson - 74,7
2. Demy Kurstjens - Ciske - 71,54
3. Jelle Peeters - Nandor - 68,72
4. Daphne van Peperstra - Tmeake My Day - 67,52
5. Gyvano Schouws - Bugatti - 66,32
6. Floor van Manen - Divano Du Bois - 66,07
7. Joan Molengraaf - Vlox - 64,44
8. Laurie Vervoort - Westerhuis Bruno - 64,44
9. Lisanne Zoutendijk - Amaretto - 63,85
10. Fleur Hofstra - Duesmann - 63,85
11. Gaby Smulders - Cherokee - 63,33
12. Celine Jeurissen- Bolheim's Karel - 63,08
13. Isis Haccou - Cinderella Du Bois - 62,48
14. Bo Oudhof - Day Of La Divinia - 62,31
15. Baukje Litjens - Orchid's Joel - 61,79
16. Britt van der Panne - Vitell W - 60,94
17. Michelle Van Berkum - Orchid's April Elegance - 60,85
18. Marit Leegte - Molenhorn's Casanova - 60,77
19. Rianne Kooistra - diva nemara bonaparte - 59,49
20. Michelle Berends - Hemmingway - 54,96
Round 1 - Group 2
1. Rachell Fokker - Majos Cannon -68,12
2. Suzanne van de Ven - Mister Gigolo - 67,86
3. Kaylee Gouda - Don Camillo Du Bois - 65,73
4. Guusje van Heeswijk - Amigo - 65,68
5. Veronique Van Der Pann - RhyfeddSpike - 65,47
6. Zoe De Booij - Voltage - 65
7. Vera van Winkoop - Meijereihoeve's Roy - 64,4
8. Annelie Hoekstra - Pop Star - 63,38
9. Shanna Lust - Stukhuster Orlando - 63,29
10. Cato Hemels - Rubels Junior - 63,21
11. Kim de Jonge - Sandokan - 62,35
12. Karlijn Geelkerken - Molenhorn's Rico - 61,88
13. Amber Vermeer - Golden Midway - 61,24
14. Mandy van den Hoek - Sir Donnerwind - 61,03
15. Marjan Hooge - Diamond's Are Forever - 60,9
16. Carlijn Vaessen - Canto - 60,77
17. Tessa de Groot - Timo - 60,68
18. Faye Smeets - Silke - 60,34
19. Lady Elegance - 58,68
19. Noranne van Giesel - Balou - 58,12
Round 2
1. Febe van Zwambagt - Dr Watson - 75,61
2. Suzanne van de Ven - Mister Gigolo - 71,63
3. Demy Kurstjens - Ciske - 70,69
4. Kaylee Gouda - Don Camillo Du Bois - 69,47
5. Guusje van Heeswijk - Amigo - 67,48
6. Gyvano Schouws - Bugatti - 66,95
7. Veronique Van Der Panne - Rhyfedd Spike - 66,83
8. Jelle Peeters -Nandor - 66,06
9. Majos Cannon - 65,57
10. Daphne van Peperstraten - Make My Day - 65,33
Related Links
Sanne Vos and Champ of Class Win 2011 Dutch Pony Championships
Te Riele Concludes Pony Career with 2010 Dutch Pony Champion's Title
Antoinette Te Riele, 2009 Dutch Outdoor Pony Champion
Te Riele and Danny Boy B Win 2008 Dutch Outdoor Pony Championships
Angela Krooswijk, 2007 Dutch Pony Champion
Michelle van Lanen, 2006 Dutch Pony Champion