British Dressage News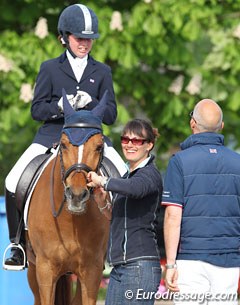 The dealine for applications for the British Pony, Junior and Young Rider Viewing Days is fast approaching. The Viewing Days are essential for riders aiming for selection for National and Squad training, and they provide a great opportunity to be seen by the selectors.
Riders need to apply in advance to attend the Viewing Days and they must submit their application with British Dressage by Monday 17 September for Ponies. For Juniors and Young Riders the closing date for applications is Friday 21 September.
The British FEI pony selectors are Jenny Ward (Chief Selector), Sarah Pidgley and John Robinson. The Pony Viewing Day will be held for BYRDS National and Squad Training on Sunday 30 September at Vale View. Riders will be assessed by the Trainers and Selectors to decide whether they fulfil the criteria to attend either BYRDS National or Squad Training. Riders can apply to attend a Viewing Day. They may be recommended by their region, riders who have attended BYRDS National Pony Training in the past two years or recommended by trainers on the British International Trainers Foundation.

BYRDS National Pony Training consists of monthly training sessions from November to March each year and is open to riders from the ages of 12-16 years riding ponies.  Riders invited to National Pony Training will have one training session each day with the appointed national trainer. Riders will also be expected to watch and learn from the other lessons in order to gain the maximum benefit from the session.
The British Junior and Young Rider selectors are Judy Firmston-Williams (Chief Selector), Islay Auty and Jill Day. A Meet and Greet Day for Squad Training for Juniors and Young Riders will be held on Sunday 7 October at Vale View Equestrian Centre, Melton Mowbray, Leicestershire, LE14 3LX. Selectors will be there to meet and talk with you and to watch you ride. Riders will be assessed by the Judge(s) and Selectors to decide whether they fulfil the criteria to attend Squad days during the Autumn/Winter months.
British Pony, Junior and Young Riders National Squads are drawn up each year following a Viewing Day. These are for combinations consistently achieving or who are, in the Selectors opinion, capable of achieving the following percentages - Pony Riders scores of 68% or above in FEI Pony Team Tests; Junior riders 70% and above at Advanced Medium level and Young Riders 70% at Prix St Georges and above.
Related Links
British Team Selected for 2012 European Pony Championships
British Teams for 2012 European Junior/Young Riders Championships Announced
Six British Members Already Selected on 2012 British European JR/YR Championship Team