2012 Paralympic Games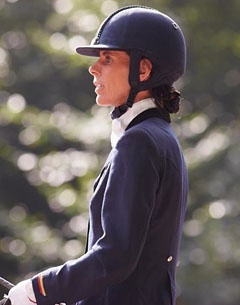 Today was the last day of Para-Equestrian Dressage at the Paralympic Games with Grades IV, III and Ia competing for Freestyle medals. It was an exact replica of the Individual Championship podiums on Saturday in Grades IV and III with Belgium's Michele George and Rainman picking up their second gold medal at the Games
followed by Sophie Wells (GBR) and Frank Hosmar (NED), whilst in Grade III Hannelore Brenner from Germany secured her fourth Paralympic gold (2 in 2008, 2 in 2012) ahead of Deborah Criddle (GBR) and Annika Dalskov (DEN). In Grade Ia, it was another foot-perfect performance from Sophie Christiansen and Janeiro 6 to the tune of Pink Floyd's 'We don't need no education' ahead of Laurentia Tan from Singapore and Helen Kearney from Ireland in Grade Ia.
The equestrian events of London 2012 are officially over…
The athletes, their stories and their sporting ability and ambition as well as the many individuals and volunteers working behind the scenes have made it an incredible Games and without a doubt the best Para-Equestrian Dressage has ever seen. The quality of the horses and the strong partnerships they form with their riders has been impressive across all the Grades, has produced lots of Paralympic records and seen new nations come to the fore in a sport that has been dominated for years by a select few.
Incredible, amazing, inspirational…
Ask any athlete as they are leaving the arena what memory they will take home with them, and it's invariably the atmosphere. They may have won gold, silver, bronze or even come last – their biggest memory is that indescribable feeling of entering a packed arena and performing to a generous audience having had all the right conditions in place to help them give their best.
The athletes are the first to thank the volunteers, their team mates, coaches, support networks, sponsors and the sporting British nation that has encouraged and cheered for each and every one of them every step of the way. It may not have always gone the way they had hoped, horses can be unpredictable, nerves and pressure can get the better of you but that is the nature of the sport. In order to develop as a rider and a partnership they are acutely aware of the need to accept the mistakes and move forward. The ability of the athletes competing at the Para-Equestrian Dressage events this week to do just that has been phenomenal and indicative of the perseverance and determination they have applied to their lives and the physical challenges they have to work with on a daily basis.
It's been a week of top sport in an iconic location with great facilities, passionate volunteers and fantastic crowds (20,000 tickets sold for each of the competition days as well as additional tickets at the Gates). Rio 2016 will have a lot to live up to… 
Nations climbing the Para-Equestrian medals table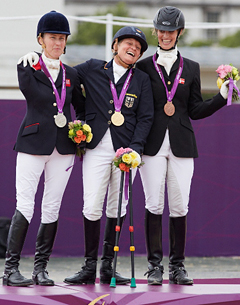 Great Britain achieve a record haul of 11 medals (five gold, five silver and 1 bronze) taking their overall tally since 1996 to an impressive 44 medals (23 gold, 13 silver and 8 bronze).
Second on the overall medals table, Germany have also beaten all their previous Paralympic Games medal records winning seven here at London 2012 with two gold, three silver and two bronze taking their tally up to 21 medals in total since 1996 (six gold, ten silver and five bronze).
Michele George in Grade IV gave Belgium it's second gold medal today. Prior to London 2012, Belgium had won a silver medal in 2000 and a bronze in 2004 
Singapore moves up the medals table as Laurentia Tan adds silver to her three bronze medals (two in 2008 and the third in 2012).
Finland added a London 2012 silver medal to two bronze medals won in Sydney 2000.
Australia add gold to their overall tally taking them to nine medals (three gold, one silver and five bronze).
Austria's Pepo Puch won their first medals – a gold and a bronze in Grade Ib.
Ireland make a great start on the table, from no medals to three – a team and Helen Kearney's Individual Championships silver and Freestyle bronze. 
Simply remarkable
Singapore's Laurentia Tan added silver to her collection of three Paralmypic bronze medals – two from 2008 and the third won here in the individual Championship test. Her ability to master the Freestyle is even more remarkable as she not only suffers from cerebral palsy but is also deaf so relies on her horse, instinct and natural rhythm. She is still the only Asian Para-Equestrian athlete to have won medals at the Paralympic Games. "I'm over the moon, I didn't expect another medal" expressed Tan after the prize-giving ceremony, "so many people come up to me and say wow and how much I've inspired them".
Long journey home…
The Australian and New Zealand horses will have a long journey home with twenty-one days quarantine in Newmarket (GBR), followed by a long flight and back into quarantine for another 21 days when they touch down. Throughout this time they are looked after by quarantine grooms and are hand walked.
Thank you Greenwich Park
Over the coming weeks, Greenwich Park will be returned to its faithful owners and by the 31st of October that transfer should be complete. By the spring of next year, new grass will be growing where Olympic and Paralympic horses lived, competed and were crowned champions.
Related Links
Natasha Baker Takes Grade II All in Her Stride while Pepo Puch Dances to Gold in Grade Ib
Medals Galore with Three Sets of Individual Medal Ceremonies and the Overall Team Score
First-time Lucky: Paralympic Debutants Take Grades II and Ib
Day Two for the Team Tests and Great Britain on the Road to Gold
Team Tests for Grades II and Ib Set the Pace for the Week Ahead
Eurodressage Coverage of the 2012 Olympic Games