2012 Paralympic Games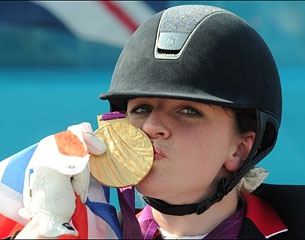 A hot, sunny and musical day in Greenwich Park with the Freestyle tests for Grades II and Ib centre stage in the packed arena. It was a repeat performance from Saturday's Grade II Individual Championship test with Natasha Baker picking up her second gold medal, followed by Britta Napel on her third silver medal (she also won team silver) and Angelika Trabert, winning her second bronze medal of the Games, alongside the team silver.
Lots of suspense and good horsemanship this afternoon in Grade Ib with British legend Lee Pearson relinquishing the Freestyle title he has held onto for so long, settling into bronze medal position while Pepo Puch from Austria was crowned the new Freestyle champion. This also goes down in the history books as Austria's first gold medal at the equestrian events of the Paralmypic Games since 1996, alongside the first bronze medal he won on Saturday. For Finland, it's a first appearance on the London 2012 Para-Equestrian Dressage medals table with a silver medal winning performance from Katja Karjalainen in Grade Ib.
The new golden girl of Para-Equestrian Dressage
"I never imagined I'd win 2 gold medals at my first Paralympic Games" said the 22 year-old rider from Great Britain. "I've really developed as a rider over the past week and have learnt a lot. I never thought JP (Cabral) would be so settled, but he loved it." The pair were so successful that they not only won gold again today, but did so on a Paralympic record score and personal best of 82.8 per cent. "I knew it was going to be good, but I never imagined it would be a Paralympic record," she said, beaming from ear to ear after her victory ceremony.
Team spirit
Angelika Trabert and Britta Napel reiterated the tremendous team spirit that had helped them get here and work so effectively as a team. For Angelika Trabert, this was her fifth Paralympic Games experience having competed at every edition since equestrian sport joined the programme in 1996. "It's a big equestrian family, I am still in touch with the owners of the horse I used in Sydney and they've been calling me a lot these past few days" she joked. "The volunteers, the crowds, the sportsmanship and the horsemanship at the top has been excellent." It's been a really successful Paralympic Games for the Germans so far, and there is still potential for more tomorrow with the Grade III Freestyle looming over defending champions Hannelore Brenner and Women of the World, so it's not over yet…
Making the transition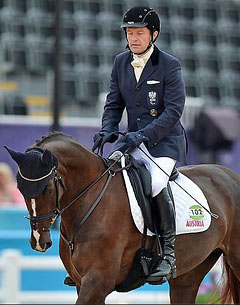 Austria's first equestrian medallist at the Paralympic Games Pepo Puch added Freestyle gold to his Individual Championship bronze with a swinging test on his mare Fine Feeling. "She likes the people, the atmosphere, the cheering and she offers me so much", said the former Event rider that competed for Austria at the 2004 Olympic Games in Athens. After his accident, which was a technical accident and not through any fault of his horse, he spent 6 months immobile in hospital, and vowed never to give up and as soon as he was out, was lifted onto his 2007 Burghley horse The Who and began his rehabilitation. "My wife is my trainer and I train her, so this success is for the family" he added.
On beating Lee Pearson, "he's a great sportsman, I hope to be the rider he is one day".
The complete set - gold, silver and bronze
Lee Pearson finished his London 2012 Paralympic Games experience with a James Bond themed Freestyle to earn the bronze medal - which he adds to his team gold and individual championship silver for the complete medal set. "The three medals will look great over my fireplace" he joked. He now has his sights set on the future, new horses, the FEI World and European Championships and ultimately Rio 2016.
Facts and Figures
First Austrian gold medal since Equestrian sport joined the Paralympic Games in 1996. Pepo Puch also secured the first bronze on Saturday in the Grade Ib Individual Championship Test.
 
First Finnish silver medal at the equestrian events of the Paralympic Games. In 2000 Marita Tevali had won two bronze medals on a borrowed horse.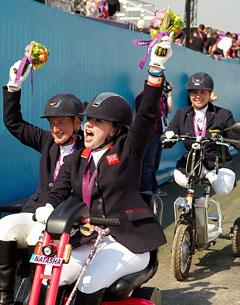 Record Freestyle score and personal best in Grade II for Natasha Baker: 82.800
 
Top eight riders in Grade II all over the 70% mark.
 
They have participated at every Paralympic edition since Dressage joined the programme in 1996: Nathalie Bizet (FRA), Jens Lasse Dokkan (NOR) and Angelika Trabert (GER).
 
Medal count so far: GBR 8 (4 gold, 4 silver), GER 6 (1 gold, 3 silver, 2 bronze), AUT 2(1 gold, 1 bronze), AUS 1(1 gold), BEL 1(1 gold), IRL 2(1 silver, 1 bronze), FIN 1(1 silver),  DEN 1(1 bronze), NED 1(1 bronze), SIN 1(1 bronze).
The last day…
Tomorrow Grades IV, III and Ia will have their Freestyle tests with medal ceremonies for each of the Grades as well as the overall team medal ceremony.
Photos © Liz Gregg - British Dressage - OEPS.at
Related Links
Medals Galore with Three Sets of Individual Medal Ceremonies and the Overall Team Score
First-time Lucky: Paralympic Debutants Take Grades II and Ib
Day Two for the Team Tests and Great Britain on the Road to Gold
Team Tests for Grades II and Ib Set the Pace for the Week Ahead
Eurodressage Coverage of the 2012 Olympic Games