2012 U.S. Young Horse Championships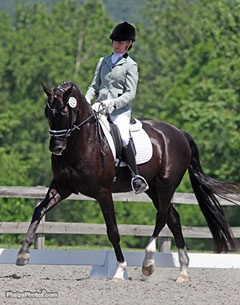 The 2012 U.S. Young Dressage Championships came to a conclusion Sunday at the Lamplight Equestrian Center with champions crowned across divisions. Intermittent rain could not dampen spirits as final competition was held in the U.S. Young Horse Dressage Championships  Alice Tarjan and Somer Hit claimed the final National Young Horse Dressage Championship of the weekend; winning the six-year-old division.
Tarjan (Oldwick, NJ) and her own Somer Hit (by Sandro Hit x Rotspon) proved to be at the top of the class of the 11 horse field in the Six-Year-Old Championship claiming victory on an overall score of 8.05. They were the only six-year-old combination to end the competition with a score above 8.
The Hanoverian stallion was lacking some of the brilliance from Friday's Preliminary Test, but still scored 7.8, 7.9 and 8.0 for his walk, trot and canter as well as 7.6 for submission and a general impression mark of 7.9 to score 7.83 for Sunday's performance.
"I was really pleased we got through it," said Tarjan. "He was a little flat compared to Friday, but I'm thrilled."
Tarjan, who also collected Reserve Champion honors in the five-year-old division, understands that it is very important to get horses early and train them from the very beginning. She is also very pragmatic about when Somer Hit will move into the Developing Horse ranks.
"I thought the only way to get a good horse was to buy a foal, so I went and bought a foal," said Tarjan. "We'll see how it goes; we always say we'll take it one day at a time."
Somer Hit also collected the Highest U.S. Bred Horse award.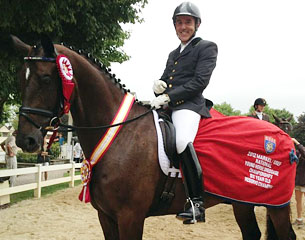 Cesar Parra (White House Station, NJ) and Michael Davis' Simply Nymphenburg (by Sir Donnerhail I x Weltmeyer) improved on their performance from Friday to collect the top score (7.86) in the Final Test on their way to Reserve Champion honors. They scored 7.6, 8.0 and 8.2 for their walk, trot and canter gaits and 7.5 on submission and 8.0 for their general impression.
Parra first saw the Hanoverian gelding in Germany just after Christmas last year and knew he was something special.
"I love my horse; he's absolutely a wonderful horse. I saw him and he was so elastic… we are always working towards FEI."
Parra also believes that programs such as the Markel/USEF National Young Horse Dressage Programs are extremely beneficial to U.S. riders and horses.
"I really think the programs are fantastic, we are very lucky to have them," said Parra. "It's the only way we can keep competing against the Europeans."
The pair finished the championships on a final score of 7.796.
Placing third was Roberta Carleton (Salisbury, CT) and Kir Royal (Kopenick-Ronja by Rotspon). The Warmblood gelding earned a championship score of 7.672.
All three top place finishers benefitted from the 2012 Markel/USEF National Young Horse Dressage Program, taking part in Observation Events, Selection Trials and Training Sessions.
Photos © Mary Phelps
Related Links
Scores 2012 U.S. Young Dressage Horse Championships
Bragdell and Hemmingway Win 4-Year Old Division at 2012 U.S. Young Horse Championships
Schueler and Regalo Win 5-year old Division at 2012 U.S. Young Horse Championship