KWPN Breeding News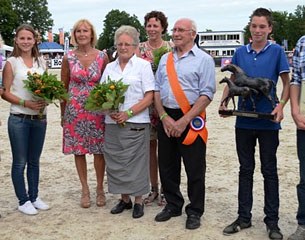 The Van Os famil from Sprang Capelle, The Netherlands, were proclaimed KWPN Breeders of the Year 2012 at the KWPN Paardendagen in Ermelo, The Netherlands, on 17 August 2012. 
The Van Os family has two mare lines which produced outstanding offspring, including several licensed stallions. Their foundation mare is Diana (by Doruto) which carries the keur, preferent and sport dressage predicates. She produced Zoriana (by Jazz) who was a KWPN Elite Mare Championship finalist and a Pavo Cup participant. In the IBOP test she scored 10 for trot. Small tour horse Uno (by Jazz) comes from this line.
The keur preferent mare Tiluciene (by Farn) produced the Keur preferent mare Kilucienne (by Michelangelo) which on her turn produced KWPN elite mare championship finalist Vilucienne (by Olivi), as well as Bowy O (by Furst Heinrich) and the licensed stallions UB40 (by Olivi) and Davino VOD (by Hotline).
Today the Van Os family was decorated with the Huub van Helvoirt Cup for being the KWPN Dressage Breeders of the Year.
Source: KWPN
Related Links
Jansen Family, KWPN Breeders of the Year 2011
Van de Valk/Van Anholt Proclaimed KWPN Breeders of the Year 2010