2012 Olympic Games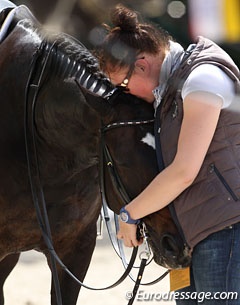 Given the all important role of taking care of an Olympic athlete Benedicte Stine Olsen says her hands on job lets her indulge in all her greatest passions. "Obviously I love horses, but I'm also very interested in the sport of dressage," says the 23 year old. "Being a groom allows you to travel all around the world and gives you the opportunity to watch world class combinations while also spending a lot of time with horses."
Having been top groom for Danish rider Nathalie zu sayn-Wittgenstein for more that four years, Benedicte was honoured to be a part of their London adventure and knows that her hard work helped the pair reach their full potential!
"After taking care of Digby for the last 4 years, I know him very well.  I think the decision to invite me to travel with him to London was pretty obvious and hopefully it was a sign that Nathalie is very pleased with my work."
Deeply grateful to Nathalie for giving her this opportunity Benedicte is not only proud to work for her, but also admires the person Nathalie is, on and off the horse.
"I can certainly vouch for the person and rider Nathalie is so I was keen to work hard and be there in London - to keep Digby fit and in superb condition."
Spending "many irreplaceable hours in the saddle walking Digby in the park" Benedicte says the role of groom encompasses a wide range of tasks, but in particular a top groom must know everything about their number one client.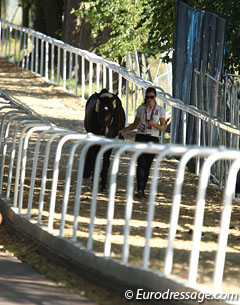 "My main role is to make sure that Digby is behaving, whatever that may involve.  I'm the person who "wakes" him up in the morning and serves him all day.  It's very important to keep him happy and while sometimes he can be quite naughty in the stables, we must always give him all of my and Nathalie's attention. Yes, he's a bit spoiled!"
With so many different things to take care of Benedicte says "walking into the stables in the morning to be greeted by Digby's handsome face and his pricked ears is the most rewarding part of her day." She also admits it is sometimes difficult to ensure the horse stays his most handsome self.
"At shows he's always in a good mood and wants to go out on a new adventure, but if we bring more horses to the same show, he'll get really angry if he's not the first horse to go out of his box.  Aside from Digby's warm greetings I also like to clean his double bridle, it's got a lot of small brass buckles and it can take me nearly an hour to get them all really shiny."
Landing with Digby in the Danish Olympic camp Benedicte was able to get right in amongst the action and says that it wasn't hard to keep a positive atmosphere in camp Denmark.
"Everybody was just so excited and happy to be a part of the Olympics. There were a lot of smiles and laughs.  It was very different from say the Europeans or the World Equestrian Games, but I can't really describe why, the Olympics is just something else.  Perhaps it could be a result of all the expectations and the residents' pride in being named as host city. All the Londoners just made you feel so extremely welcome! And the Danish team had a lovely time together, supporting each other and having a good time.  Beyond that, I worked closely with Nathalie and her veterinarian Dr. Siebert.  It's always necessary that you can rely on each other. We make a super team and we all came together very well!"
With all that support to guide her Benedicte says the best part about London was "picking up her Olympic accreditation" and of course watching her boss take to the stage.
"When I received my full accreditation it all became very realistic, I knew then I was at an Olympic Games and I was a part of something special. And of course all of the 3 test performances from Nathalie and Digby were a highlight to me, especially the Grand Prix Special. To be ranked 9th and to make it all the way to the freestyle. I adore Nathalie's music and in the walk Digby gave me goose bumps."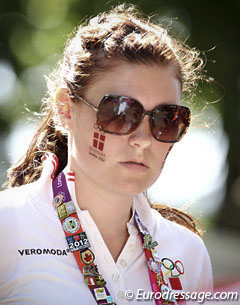 Aside from the brush ups and goose pimples the London groom experience wasn't just limited to the stable and Benedicte says she was able to mix it up with grooms from right around the world.
"Grooms did meet up across nations, especially our Danish groom camp had a really good time with the German team, because they were our stable neighbours in Greenwich.   But our team also got along very well with the grooms from Great Britain, Sweden, Finland, Italy and Holland. Maybe our riders were competitors in the ring, but that didn't mean we couldn't have a nice time together when the spotlights were turned off!"
And so what did happen when the lights were out?
"We had a lovely bar at the Devonport House, where all the grooms united. Just across the street there was a pub where we could have a drink or two together. The whole Olympics were one big groom's party, I wouldn't complain about a thing!!"
With London down Benedicte says she would love to be part of another Olympic Games and after already getting a sneak preview of the 2016 venue she is all in!
"Last year I was with Nathalie in Rio de Janeiro at the Athina Onassis horse show and we saw where the 2016 Olympics will be held. I would not reject to having to go there again!"
Text by Sarah Warne for Eurodressage
Photos © Astrid Appels
Related Link
Eurodressage On the Scene at the 2012 Olympic Games