Trakehner Breeding News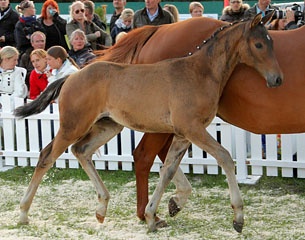 The Trakehner foal Pleasure became the price highlight of the annual foal auction held in conjunction with the Trakehner Championships in Hanover, Germany, on 20 - 22 July 2012. The Millennium x Maizauber sold for 22,000 euro to Albert Sprehe.
Pleasure is bred by Hubertus Schröder and was one of 22 foals up for auction at this event.
"The foal moves with looseness and elasticity and the dam is truly a gorgeous chestnut mare," said Albert Sprehe about his new purchase. "I think Pleasure will make a true stallion."
The second most expensive foal was Hannibal (by Saint Cyr x Summertime). Bred by Luise Bredemeier, this colt sold for 13,000 euro. The colt Vados (by Taison x Cadeau) sold for 9,000 euro.
The average price for a foal at this auction was 6,895 euro.
Photo © Stefan Lafrentz
Related Link
Tudor, Top Selling Foal at 2011 Trakehner Foal Auction in Hanover