2012 Bundeschampionate Qualifier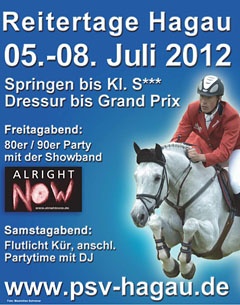 The 5-year old Stand By Me and 6-year old Florencia won the Bundeschampionate qualification classes held at the regional show in Ingolstadt/Hagau on 6 - 8 July 2012. A nice group of 26 combinations assembled at this venue in order to qualify for Warendorf.
In the 5-year old division Sandra Kopf on her own Oldenburg stallion Stand By Me (by Stedinger x De Niro) scored a massive 8.8 overall score to win the class. The combination put big marks on the score board, receiving 9 for trot, 9.5 for walk, 8 for canter, 8.5 for submission and 9 for general impression. Rudolf Widmann and Paul Wendeln's Oldenburg stallion Romanist (by Rohdiamant x De Niro) were second with 8.0. This combination received 8 for trot and canter, 8.5 for walk, 7.5 for submission and 8 for general impression.
In the 6-year old division German based Canadian Christilot Boylen-Hansen aced the class aboard Jill Irving's Hanoverian mare Florencia (by Florencio x Weltmeyer). The duo scored an overall mark of 8.4 with 8.5 for walk, trot, canter and general impression and 8.0 for submission. Victoria Michalke and the Bavarian bred Novia (by Stedinger x Alabaster) were the runners-up with an 8.3 score. Novia scored a 9 for trot, 7.5 for walk, 8 for canter and 8.5 for submission and general impression.
Results - 2012 BuCha Qualifier - Ingolstadt/Hagau
5-year olds
1. Sandra Kopf - Stand By Me - 8.8
2. Rudolf Widmann - Romanist - 8.0
3. Lena Waldmann - Fahrenheit - 7.8
4. Walter Wadenspanner - Supreme - 7.7
4. Lena Waldmann - Carlotta - 7.7
6. Kerstin Kronaus - Luciano - 7.5
7. Kathleen Muhr - Don Rudolfo - 7.4
7. Nicole Hinkelmann - Lucky von Heslegard - 7.4
9. Christilot Boylen Hanson - Soccer City - 7.3
10. Ursula Wagner - Dilenzio - 7.2
11. Marion  Rall - Maja - 7.1
12. Jennifer Schmitt - Rethwish Dancer - 7.0
12. Lisa Mayer - Fidibus - 7.0
14. Michael Beck - Donna Karan - 6.9
Stefanie Weihermuller - Don Cismo - RET
Anna Katharina Gerber - Duke of Rebenstein - RET
6-year olds
1. Christilot Boylen Hansen - Florencia - 8.4
2. Victoria Michalke - Novia - 8.3
3. Christina Boos - Don Alejandro - 7.8
4. Alexandra Sessler - Flaneur - 7.6
4. Lena Waldmann - Cassitano - 7.6
6. Alfons Friedberger - Diego - 7.4
7. Patricia Freytag - Bardolino - 7.3
8. Sebastian Horler - Dot Com Frederico - 7.2
9. Tatjana Schneider - Don Amorosso - 7.0
10. Anna Muschweck - High Fidelity - 6.8
Back to the 2012 Bundeschampionate Index