2012 Bundeschampionate Qualifier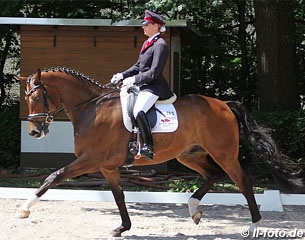 At the regional show in Neustadt/Dosse on the weekend of 13 - 15 July 2012, a Bundeschampionate qualification class was being held for 5-year old horses. Fourteen horses were trailered to this venue and two of them obtained an entry ticket for the Finals in Warendorf begin September.
The class was won by Lena Feistkorn on the German Sport Horse registered bay Herzensfurst (by Herzensdieb). The combination scored a high score of 8.8 points to outclass the competition. Libuse Pulpanova and the German Sport Horse Quäntchen Gluck (by Quaterback) finished second with 8.1.
Results - 2012 BuCha Qualifier - Neustadt/Dosse
5-year olds
1. Herzensfürst - Feistkorn, Lena - 8.80
2. Quäntchen Glück - Pulpanova, Libuse - 8.10
3. Santorini -  Lüders, Ronald - 7.90
4. Dossefürst - Fiedler, Stephanie - 7.80
4. Luigi - Lüders, Ronald - 7.80
6. Dodilas  - Deutschmann, Claudia - 7.70
6. Sokrates - Wiegert, Katharina  - 7.70
8. Syrio-  Voigtländer, Julia - 7.60
9. Haydn - Pomares, Victor Alfonso - 7.50
10. Biscaya - Pomares, Victor Alfonso - 7.10
11. Riviera - Ollmann, Nadine- 6.80
12. Alejandro hot like Mexico - Rostek, Sonja - 6.70
13. Life Licence - Munz, Patricia - 6.40
Dalatano - Ramcke, Bianca - RET
Cloud Dancer - Hansen, Katrin - DNS
Back to the 2012 Bundeschampionate Index