2012 Bundeschampionate Qualifier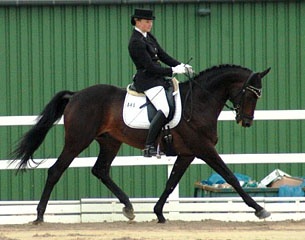 The 5-year old Digby and 6-year old Grandezza Ultima  won the Bundeschampionate qualification classes at the regional show in Erbes-Budesheim on 7 July 2012. In the 5-year old division none of the combinations were able to score high enough to qualify for the Bundeschampionate in Warendorf.
The L-level dressage horse class for 5-year old horses was won by Thomas Wagner on Digby with 7.8. Stefanie Hladik and the Hanoverian bred Duffy (by Don Frederico) were the runners-up with 7.7, while Wiebke Lippert slotted in third on the Hanoverian Dennis del Sol (by Dauphin) with 7.5.
The 6-year old Grandezza Ultima (by Grafenstolz x Lauries Crusador xx) bested the field in the M-level test. under Rena Fraikin the mare scored 8.1 to top the leaderboard. Thomas Wagner and the Hanoverian bred Leandro (by Londonderry) were second with 8.0
Results - 2012 BuCha Qualifier - Erbes-Büdesheim
5-year olds
1. Digby- Wagner, Thomas  - 7.8
2. Duffy -  Hladik, Stefanie -  7.7
3. Dennis del Sol - Lippert, Wiebke - 7.5
4. Humphrey- Balzer, Birgitt - 7.3
4. Donna Rupina - Weiß, Sandra - 7.3
4. Samba Soleil - Steigauf, Björn  - 7.3
7. Herston - Schneider, Anja - 7.2
8. Summertime  - Sander, Barbara  - 7.1
9. Donau Earl- Wagner, Thomas - 7.0
10. Hotspot - Wais, Daniela - 6.8
10. Vision - Wenger- Rossy, Sophie  - 6.8
12. Zauberdeyk  - Arjes, Kim - 6.6
6-year olds
1. Grandezza Ultima - Fraikin, Rena - 8.1
2. Leandro - Wagner, Thomas -  8.0
3. Rien ne va plus - Schumacher, Corinna - 7.6
4. Laurice - Helmling, Bianca - 7.5
5. Leonardo - Luze, Oliver - 7.4
6. Froschkönig -  Berlepp, Viktoria - 7.3
7. Will I am - Pfeiffer, Kim - 7.2
7. Quattroleur - Tilp, Gabriele - 7.2
9. Remondos quick step - Ascherl, Steffen - 6.6
Back to the 2012 Bundeschampionate Index