2012 CDI Hartpury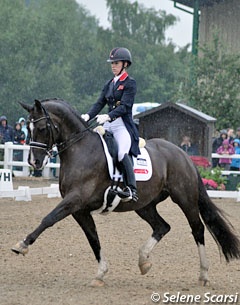 It was standing room only last night at the Saturday Gala performance at the 2012 CDI Hartpury in Gloucestershire for the eagerly awaited debut of Charlotte Dujardin's new Freestyle music and floor plan with Roly Luard and Carl Hester's Valegro. And no-one was disappointed as Dujardin scored 90.65% to break the British record.
It was a sensational performance with many spectators wiping away tears and giving a standing ovation on completion of the phenomenal routine. The duo became the first ever British combination to break the 90% barrier in international competition. A final score of 90.65% sent the previous British record, set only in April by Laura Bechtolsheimer, tumbling. They were winners by nearly 15% over Canada's Ashley Holzer with Breaking Dawn (75.925%) with Michael Eilberg and Half Moon Delphi third (72.05%) on the horse's freestyle debut.
The Tom Hunt-composed patriotic music score had the crowd captivated as Charlotte and Valegro put in a mistake-free test and you could feel the sense of British pride running through the venue. Pirouettes to the chimes of Big Ben and piaffe to the theme tune of 'The Great Escape' were highlights for many. Four of the five judges awarded artistic marks of over 93% including a 97% from Eduard De Wolff Van Westerorode (NED) at B while Poland's Wojteck Markowski awarded one of his highest ever scores from C. British 'O' judge Andrew Gardner, who judged at M, exuded praise on the duo after the test.
"It was breath taking. For a judge to be able to award a ten for such a range of movements from piaffe to extended trot endorses the calibre of the talent that we have in front of us. It was an absolute privilege to give so many tens," he said.
Charlotte's mentor and trainer Carl Hester was delighted with his protégée's work. "They nailed it! All the practice at home has paid off and I feel we have a true Olympic calibre freestyle that the whole nation can be proud of. Tom has done an amazing job with the music and Charlotte and I just love it. There's a little bit more tweaking to be done but roll on Greenwich – we'll be ready!"
Source: British Dressage
Photo © Selene Scarsi
Related Links
Scores 2012 CDI Hartpury
Hester to Coach and Not Compete at 2012 CDI Hartpury