2012 Bundeschampionate Qualifier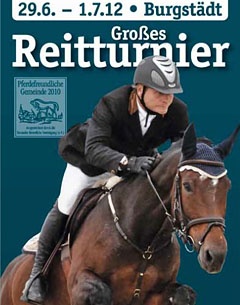 The 5-year old Hitline and the 6-year old Paola were the winning horses in the Bundeschampionate qualification classes held at the Saxon Regional Championships in Burgstädt, Germany, on 30 June - 1 July 2012.Out of twelve competing horses in the 5 and 6-year old division, only two were able to score 8.0 or higher and qualify for Warendorf.
The 5-year old L-level dressage horse test was won by Stefan Puschmann on the Oldenburg bred Hitline (by Hotline). The duo posted a score of 7.7 and referred Reinmar Tempel on Honneur (by Hotline) to a second place with 7.5.
In the 6-year old M-level dressage horse division the overall scores were higher. Neustadt/Dosse state stud rider Susann Göbel and the German Sport Horse registered Paola (by Lord Loxley I) were first with 8.2. Stefan Puschmann finished second again, but this time on the Oldenburg branded Bendlin (by Breitling W) with 8.1.
Results - 2012 BuCha Qualifier - Burgstädt
5-year olds
1. Hitline - Puschmann, Stefan - 7.70
2. Honneur - Tempel, Reinmar - 7.50
3. Davena - Wagner, Lennart  - 7.40
4. Samba del Sol - Nüßner, Samira - 6.70
5. Sir Little - Nitschke, Nadine - 5.90
5. Fiorato - Krakor, Katharina  - 5.90
Douceur - Miethe, Angelika - DNS
6-year olds
1. DSP Paola  - Göbel, Susann -  8.20
2. Bendlin - Puschmann, Stefan - 8.10
3. Don Lyberty - Kampmann, Sebastian - 7.80
4. Fürst Wettin  - Treu, Wilken - 7.20
5. Lößnitz -  Pawlowska, Kay - 6.90
6. Dom Perignon- Gorisch, Janette -  6.80
Back to the 2012 Bundeschampionate Index