2012 Bundeschampionate Qualifier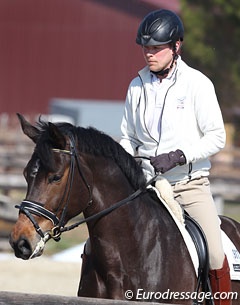 The 5-year old Rosamunde and the 6-year old Louidor were the winning horses of the Bundeschampionate qualification classes held at the regional show at Castle Wickrath in Mönchengladbach, Germany, on Thursday 28 June 2012. Nineteen horses competed in the L- and M-level dressage horse tests to qualify for the German Young Horse Championships in Warendorf.
Krefeld based Finnish rider Henri Ruoste won the 5-year old division aboard the Rhinelander bred mare Rosamunde (by Rock Forever) on a 8.4 score. Julie Koerber and the Hanoverian San Deviano (by Sandro Hit) were the runners-up with 8.1.
In the 6-year old division Alexa Engel and the Westfalian bred Louidor (by Lord Loxley I) finished at the top, posting a score of 8.1. She had Laura Stigler on her heels, as she finished second on the Oldenburg bred Rasputin W (by Rooney) with 8.0.
Photo © Astrid Appels
Results - 2012 BuCha Qualifier - Mönchengladbach-Wickrath
5-year olds
1. Rosamunde - Ruoste, Henri - 8.40
2. San Deviano - Koerber, Julia - 8.10
3. Rihanna Forever - Pfeiffer, Martin  - 7.60
4. Doubleyou W  -  Stigler, Laura - 7.50
5. Kentucky - Sauerwald, Tanja - 7.30
6. Serafina - Platzer, Ann-Kathrin - 7.20
6. Dornenstern - Wolf, Stefanie - 7.20
6. Santanus - Winkmann, Gabriele  - 7.20
9. Copyright by W- Weichert, Simone - 7.10
10. Lausanne - Wiesener, Anna-Maria  - 5.70
Serenissima RH  - Camp, Lydia  - DNS
Sterndeuter - Röhrig, Lisa - DNS
6-year olds
1. Louidor - Engel, Alexa - 8.10
2. Rasputin W - Stigler, Laura - 8.00
3. Lumberjack  - Unger, Anke - 7.30
4. FS Delamanga  - Freund, Jana  - 7.10
5. Rio Grande - Di Pierro, Rocco - 6.90
6. Don Amour  - Winkmann, Gabriele - 6.80
7. Laurensberg- Arntz, Judith - 6.20
Back to the 2012 Bundeschampionate Index