2012 Bundeschampionate Qualifier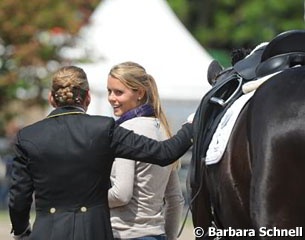 The 5-year old Don Noblesse and the 6-year old Louis Le Rouge were the top scoring horses in the Bundeschampionate qualification classes held at the regional show in Hohenahr-Altenkirchen on 15 June 2012. Eighteen horses in total gathered at this competition in an attempt to score 8.0 or higher for an entry ticket to Warendorf.
In the 5-year old division Anna Katharina Ruoff and the Hanoverian bred Don Noblesse (by Dancier) were the high scorers of the day. They earned an 8.3 total score from the judges and referred Dorothee Schneider on the Oldenburg bred Hotspot (by Hotline) to a second place with 8.2. Frank Mohr completed the top 3 on his Oldenburg mare Uta H (by Sandro Hit) with 8.1.
In the 6-year old M-level class Schneider's Under 25 Grand Prix riding student Stella Charlott Roth topped the leader board aboard the Rhinelander Louis le Rouge (by Lord Loxley) posting a score of 8.5. Christina Munk and the Hanoverian Harry Potter (by Hochadel) were second with 7.8, while Grabiele Tip and the Hanoverian Quattroleur (by Quidam's Rubin) slotted in third with 7.7.
Photo © Barbara Schnell
Results - 2012 BuCha Qualifier - Hohenahr-Altenkirchen
5-year olds
1. Don Noblesse - Ruoff, Anna-Katharina -  8.30
2. Hotspot - Schneider, Dorothee  - 8.20
3. Uta H OLD- Mohr, Frank - 8.10
4. Duffy -   Hladik, Stefanie - 7.60
5. Digby -   Mayr, Angelika - 7.50
6. Fantasy Queen  -   Növermann, Nicole - 7.30
7. Fabulös   - Fraikin, Rena - 7.10
7. Feenlicht - Petruschke, Sabine - 7.10
7. Ra Wulfia   - Schmalzing, Sandra - 7.10
10. Ruby Star - Kramer Dr., Catrin - 7.00
11. San Siro - Häschke, Antje - 6.80
6-year olds
1. Louis le Rouge - Roth, Stella Charlott - 8.50
2. Harry Potter - Munk, Christina - 7.80
3. Quattroleur - Tilp, Gabriele - 7.70
4. Froschkönig - Berlepp, Viktoria - 7.50
5. Dexter - Becher, Miriam - 7.20
6 . Loxley - Sybel, Marie  - 6.80
Dark Dandy - Kramer Dr., Catrin - RET
Back to the 2012 Bundeschampionate Index