2012 Bundeschampionate Qualifier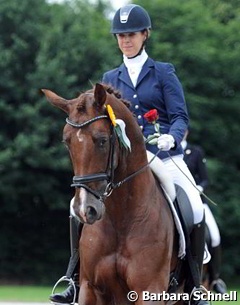 The 5-year old Dutch warmblood stallion Cennin and the 6-year old Rhinelander stallion Sir Fashion won the Bundeschampionate qualification classes held at the Rhinelander Regional Championships in Langenfeld, Germany, on Thursday 21 June 2012. Twenty-six horses in total assembled at Langenfeld for the L- and M-level Dressage Horse Test.
In the 5-year old division the Dutch warmblood stallion Cennin (by Vivaldi x Donnerhall) and his Roermond based Dutch rider Stephanie Peters scored the highest points and won the L-level division with 8.2. The chestnut stallion received 8s for walk, canter and submission and 8.5 for trot and general impression. Even though Cennin scored high enough points to go to Warendorf, he has not qualified as only German bred horses are allowed to compete at the Bundeschampionate. Former European pony champion Lydia Camp and the Westfalian mare Felice (by Furst Piccolo x Ehrentanz) became second with 8.0. The bay mare got 7.5 for submission, 8s for trot, canter and general impression and 8.5 for walk. Laura Stigler and the Hanoverian gelding Doubleyou W (by Don Romantic x Rohdiamant) tied on second place with 8.0. This pair earned 7.5 for submission, 9s for walk, canter and general impression and 8.5 for trot.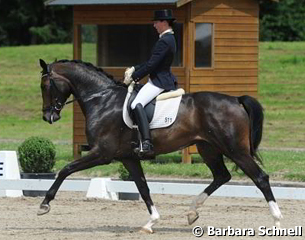 In the 6-year old division German young rider Juliette Piotrowski came staight from two days of German World Championship Young Horse Selection trials to Langenfeld to win the M-level test on her Rhinelander stallion Sir Fashion (by Sir Donnerhall I x Rosenkavalier). The dark bay stallion got 7.5 for walk, 8 for submission, and 8.5 for trot, canter and general impression. He totalled 8.2 to win the test. Danish Fie Skarsoe and the Oldenburg bred For My Live (by Furst Heinrich x Don Schufro) were second with 7.6. The gelding got 7 for submission, 7.5 for trot and general impression and 8 for walk and canter. Manuela Hein and the Rhinelander Sergio (by Stedinger x Festivo) slotted in third with 7.4 overall. This stallion for 7 for walk and 7.5 for trot, canter, submission and general impression.
Photos © Barbara Schnell
Results - 2012 BuCha Qualifier - Langenfeld
5-year olds
1. Stephanie Peters - Cennin - 8.2
2. Lydia Camp - Felice - 8.0
2. Laura Stigler - Doubleyou W - 8.0
4. Jessica Suss - Tarantino - 7.5
4. Tara Schneider - So Dark - 7.5
6. Iris Herren - Sinfonie - 7.3
7. Stefanie Wolf - Dornenstern - 7.2
7. Jessica Suss - Duke of the Dance - 7.2
9. Ulrich Oberscheid - Forever First - 7.0
10. Anna Maria Wiesener - Lausanne - 6.9
10. Tanja Sauerwald - Kentucky - 6.9
12. Ann Kathrin Platzer - Serafina - 5.9
Verena Heinze - Starkstrom - RET
Stefanie Wittmann - Rubin - RET
6-year olds
1. Juliette Piotrowski - Sir Fashion - 8.2
2. Fie Skarsoe - For My Live - 7.6
3. Manuela Hein - Sergio - 7.4
4. Michaela Jordan - Flirt d'Amour - 7.3
5. Miriam Becher - Dexter - 7.2
5. Alexa Engel - Louidor - 7.2
7. Jana Freund - Delamanga - 7.1
8. Laura Stigler - Rasputin W - 7.0
8. Anke Unger - Awakino Q'Rage - 7.0
10. Silke Futterer - Furst Piccolo's Junior - 6.9
11. Judith Arntz - Laurensberg - 6.7
12. Gabriele Winkmann - Don Amour - 6.2
Back to the 2012 Bundeschampionate Index