2012 Olympic Games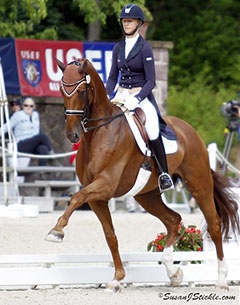 Pan American team gold and individual silver medalist Heather Blitz from Wellington, Florida and her 9-year old Danish Warmblood gelding Paragon (by Don Schufro x Pari Lord) have been named as the U.S. Olympic dressage team alternates. Blitz will travel with the squad to London on 9 July 2012 to be in training in England until the team is announced.
"I'm thrilled with the opportunity to participate as a member of the Olympic squad, It's a great honor and a privilege for Paragon and me to be selected. And I believe it's the best possible situation for a young horse to benefit from this exposure," said Blitz. "We gained invaluable experience on the Pan American Games team last year which will stand us in good stead for this next adventure."
The partnership finished sixth in the final selection trial at Gladstone, NJ this past weekend and following the withdrawal of Todd Flettrich and Otto - another horse that Blitz trained to Grand Prix level - they were the next ranked combination to be promoted to the alternate position and invited to join the squad.
Blitz and Paragon also finished sixth in the U.S. Grand Prix Championship at the Festival of Champions in their first season at Grand Prix level together, which is itself a noteworthy achievement especially for a young horse. Paragon is not only a Grand Prix rookie but also a big horse at 18 hands who is still developing. Paragon is a U.S. bred Danish Warmblood bred by Richard Freeman's Oak Hill Ranch in Folsom, LA.
"Oak Hill Ranch produces high performance Danish Warmbloods and demonstrates that American riders do not have to look overseas for Olympic prospects," added Blitz. 
Blitz and her chestnut gelding have become a crowd favorite and now have a  tremendous fan base. "I'm enormously grateful to everyone who has supported us in so many ways with fund raising efforts, and my generous sponsors and donors who have made our Olympic campaign possible. It takes a huge effort to make this journey and I'm very fortunate to have this support. The next few weeks will be a great adventure and I'm so proud of Paragon for getting this far already. He is a wonderful partner with a great personality, and he's also a bit of a ham who enjoys the attention," said  Blitz.
Blitz will take Paragon to some events whilst in England and is planning to compete at the famous Hickstead Showground in Sussex. 
Photo © Sue Stickle
Related Links
American Grand Prix Horses Otto and Sagacious to Be Retired
U.S. Olympic Dressage Team Takes Shape at 2012 U.S. Championships