2012 Bundeschampionate Qualifier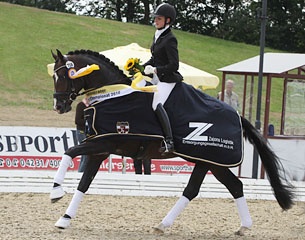 The 5-year old Diamo Gold and the 6-year old Snap Shot were the winners of the Bundeschampionate qualification classes held at the regional show in Bargstedt, Germany, on  7 - 10 June 2012. Twenty-four horses were entered to compete in the L and M-level dressage horse tests to qualify for the Finals in Warendorf.
In the 5-year old L-level division, Laura Hassler and the Oldenburg licensed stallion Diamo Gold (by Dimaggio x Ex Libris) aced the class with an 8.5 overall score. Judges Heinz Lemmermann, Heidi Dörler, and Jürgen Böckmann scored the stallion 7.5 for walk, 8.5 for canter and submission and 9 for trot and general impression. Esther Maruhn and the Hanoverian gelding Rovereto (by Rousseau x Wolkenstein II) finished second with 8.4. This pair got 7.5 for submission, 8 for trot, 8.5 for general impression and 9s for walk and canter.
In the 6-year old M-level division judges Heidi Dörler, Jürgen Böckmann and Anna Holten-Jungheit gave the winning score of 8.7 to Juliane Brunkhorst on the Norwegian owned 6-year old Hanoverian stallion Snap Shot (by Sir Donnerhall I x Alabaster). Former European Young Rider champion Christin Schutte was the runner up with 8.5 aboard the Hanoverian stallion Lesodoro (by Londonderry x Calypso II). Susan Pape and the British owned Woodlander Wavavoom (by Weltregent x Longchamp) were third with 8.3
Results - 2012 BuCha Qualifier - Bargstedt
5-year olds
1. Laura Hassler - Diamo Gold - 8.5
2. Esther Maruhn - Rovereto - 8.4
3. Christian Flamm - Santiago - 8.3
4. Anna Sophie Fiebelkorn - Secret Love - 7.5
4. Anna Sophie Fiebelkorn - Summer Girl - 7.5
6. Thomas Soboll - Hello Kitty - 7.4
6. Raphael Thomas - Santo - 7.4
6. Therese Nilshagen - Dante Weltino - 7.4
9. Katalin Garrn - Dylas - 7.2
9. Mike Habermann - Don Darius - 7.2
11. Hannes Baumgart - Highlight - 7.1
11. Theresa Wahler - Feuerspiel - 7.1
13. Janina Tietze - De Jong - 6.8
13. Dirk Seewald - Keanu - 6.8
15. Birte Runge - Royal Grey Horse - 6.2
15. Annette Lepenies - Hot Chili - 6.2
6-year olds
1. Juliane Brunkhorst - Snap Shot - 8.7
2. Christin Schutte - Lesodoro - 8.5
3. Susan Pape - Woodlander Wavavoom - 8.3
4. Laura Hassler - Rosengold - 7.5
5. Anna Sophie Fiebelkorn - Hofliebe - 7.4
6. Eckhard Wahlers - Shadow's Dream - 7.3
Anja Engelbart - De Champ - ELI
Andrea Muller Kersten - Apassionata - ELI
Back to the 2012 Bundeschampionate Index