2012 CDI Achleiten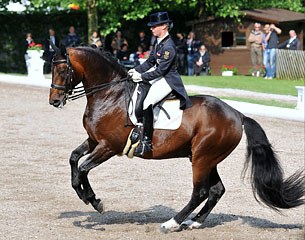 It was her home turf at Achleiten that Victoria Max-Theurer chose for a double premiere -- her first competition with Blind Date and the first presentation of her new freestyle with Augustin OLD – and she graced it with world class performances, first winning the Grand Prix with a personal record score of 78.5% and then "dancing into the light" to her new freestyle music, a Phil Collins medley arranged by Michael Erdmann.
"Augustin just loves that music; he was all fun and power; it felt fantastic", said an overjoyed Vici Max-Theurer, who set another personal record with her 83% freestyle victory. Always the perfectionist, her new coach Wolfram Wittig said that he still saw room for improvement, but he did say it with a big, proud smile. "Of course all of this wouldn't be possible without the fantastic groundwork laid by Hans Max-Theurer. I'm happy to keep building on that foundation, but Vici's quick improvement just shows how meticulously she was trained before."
But it wasn't only Augustin's improvement that impressed spectators and judges alike – it was also the premiere of the new combination. Vici and Blind Date hit it off well from the start – in Achleiten, they placed second twice, scoring 70,9 and 71,7 in the Grand Prix respectively the Special. "We communicate better every day, and we're growing together more and more", said Vici. The ten-year-old mare by Breitling W was trained to Grand Prix level by Brigitte Wittig, who won the Nürnberger Burgpokal with her in 2009 and won the Special tour at the CDI Bremen earlier this year, shortly before Vici started riding the horse.
The double victory with Della Cavalleria, with whom she had already achieved spectacular results in Munich a couple of weeks ago, completed Victoria's success in Achleiten. "I really profit from Wolfram Wittig's new training impulses ", said Victoria. "He's very consequent and focussed."
Father Hans Max-Theurer is very happy with the current development – not least because "I can finally focus on training the young horses again, which is my passion, and on working them from the ground."
Now the team will concentrate on Victoria's preparation for the Olympic Games– and on perfecting her freestyle. Her next stop on the road to London will be Aachen, where she hopes to continue her course and "Dance into the Light".
Photo © Tanja Becker
Related Links
Scores 2012 CDI Achleiten
Max-Theurer Invests in Wittig's Blind Date