2012 Bundeschampionate Qualifier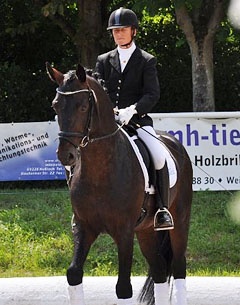 Lord Leopold and Will I Am became the winners of the Bundeschampionate qualification classes held at the regional competition in Nussloch on 26 - 28 May 2012. Twenty horses were registered to compete in the 5-year old L-level test and 6-year old M-level test.
In the 5-year old division Nicole Casper steered Simone Meder's Baden Wurttemberger branded stallion Lord Leopold (by Lord Sinclair x Sandro Hit) to victory with an 8.1 score. Jana Freund and the chestnut Rhinelander stallion Las Vegas (by Lord Loxley x Louis le Bon) finished second with 8.0
In the 6-year old division three horses were able to score 8.0 or higher and qualify for Warendorf. Kim Pfeiffer and Will I Am (by Weltpoet x Rodgau) became the winners of the class with 8.1. Two combinations tied for second place with 8.0: Bianca Helmig on Laurice (by Lauries Crusador xx x Maurice) and Dorothee Schneider on Louis le Rouge (by Lord Loxley x Worldchamp).
Results - 2012 Bundeschampionate Qualifier - Nussloch
5-year olds
Judges: Plewa, Rassmann, Hahn
1. Casper,Nicole - Lord Leopold  -  8.1
2. Freund,Jana - FS Las Vegas - 8
3. Hladik,Stefanie - Duffy  - 7.5
3. Miserre,Carolin - Don Ricaro - 7.5
5. Keser,Simone - Quando's Rubin - 7.4
6. Wagner,Thomas - Donau Earl - 7.3
7. Balzer,Birgitt - Humphrey  - 7.1
7. Lang,Meike -  Hofrätin - 7.1
9. Kühnle,Sandy -  Donleandro -  6.8
10. Bernhard,Yvonne - Dont stop moving - 6.7
10. Ellsässer,Julia - Don Primo  - 6.7
12. Wittenborn,Carolyn -  Sympathikus  - 6.1
Lang,Meike - Rockingham - RET
6-year olds
Judges: Umbach, Abel, Rassmann
1. Pfeiffer, Kim - Will I Am - 8.10
2. Helmling, Bianca - Laurice - 8.0
2. Schneider, Dorothree - Louis le Rouge - 8.0
4. Freund, Jana - Delamanga - 7.5
4. Raadt, Pieter van der - First Lady - 7.5
6. Berlepp, Viktoria - Froschkonig - 7.1
7. Kuhn, Christine - Joy of Jazz - 6.5
Back to the 2012 Bundeschampionate index