German Dressage News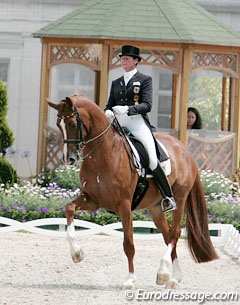 German Olympic team hopeful Ulla Salzgeber has withdrawn herself from the German Dressage Championships, taking place 1 - 3 June 2012, which at the same time implies that she will no longer be up for team contention for the 2012 Olympic Games. Salzgeber announced the news via the German Equestrian Federation.
The 53-year old Salzgeber stipulated her trainer's duties as reason for her backing out. "Because of my absence due to international trainer's duties I can not fully concentrate on bringing Herzruf's Ebre to full performance potential. Each athlete has to bring top performance at the Olympic Games. Even if we were to be considered for the team, the risk for me would be too high that my horse would not be in the desired form and up for a top team performance in London. That is why my personal goals should be put behind the interests of the German dressage sport."
This is not the first time that the 2004 Olympic silver medalist has pulled herself and her Rhinelander gelding Herzruf Erbe out of the race for a major championship. The chestnut Herzruf offspring injured himself at the 2009 CDIO Aachen, which ruled them out for the 2009 European Championships. In the summer of 2011 the rider also called for a time-out and withdrew once again from team contention at the 2011 European Championships because of her trainer duties. This year Salzgeber once again stated that her training commitments have detracted her from fully focusing on preparing Herzruf's Erbe for the Games.
Salzgeber has confirmed that she will concentrate on preparing her horse for the 2012-2013 indoor world cup season upcoming winter. In the winter of 2011-2012 Salzgeber competed Herzruf's Erbe at the CDI-W Lyon, CDI Stuttgart and CDI Dortmund but so far had not made her outdoor show debut yet.
Photo © Astrid Appels
Related Links
Time Out for Ulla Salzgeber
Salzgeber Misses Out on 2011 German Championships
Herzruf's Erbe's Injury Less Severe Than Feared
German A-Team Had Closed Door Training Seminar in Warendorf