2012 Bundeschampionate Qualifier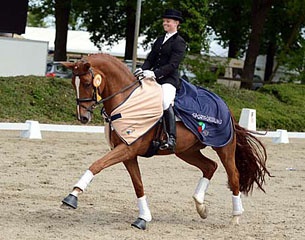 Annika Slüter and Rosenrot were the winners of the Bundeschampionate qualification class held at the huge regional show in Haftenkamp on Sunday 19 May 2012. Sixteen 6-year olds were entered to compete in the M-level test for 6-year olds and four achieved the BuCha qualification criterium of 8.0 or higher.
Slüter and her Hanoverian Royal Blend x Wolkenstein II son scored the winning mark of 8.1. They were followed by Hermann Burger on the Rhinelander Furstentanz (by Fidertanz x Riccione) with 8.0. Two more horses tied in second place with the same score: Katrin Burger on the Oldenburg Fifth Avenue (by Florencio x Dormello) and Oliver Oelrich on the Westfalian Der Felix (by Damon Hill x Diamo).
Results - 2012 Bundeschampionate Qualifier - Haftenkamp
6-year olds
1. Rosenrot  -  Slüter, Annika  - 8.1
2. Fürstentanz  - Burger, Hermann - 8.0
2. Fifth Avenue  - Burger, Katrin -  8.0
2. Der Felix HM  - Oelrich, Oliver -  8.0
5. Rolex  -  Linden, Tom van der - 7.7
5. Rubinio  -  Stroetmann, Petra - 7.7
7. Apassionata  - Müller-Kersten, Andrea - 7.6
7. Fabriana  - Wienkamp, Ann-Christin -  7.6
7. Fürst Fugger  - Sprehe, Kristina - 7.6
10. Rosengold OLD - Haßler, Laura - 7.5
11. Babylon - Richter, Leonie - 7.2
12. Diamond's Diva  - Hansen, Insa -  7.1
13. Fabelhafte  - Heuer, Swantje - 6.9
13. Batumi  - Rohde, Dorothea -  6.9
15. Weisel  - Siebel-Schön, Andrea - 6.7
Fantastic Sommertänzer - Horstmann, Anne - RET/DNS
Photo © Ruchel/Haftenkamp.de
Back to the 2012 Bundeschampionate index