Danish Warmblood Breeding News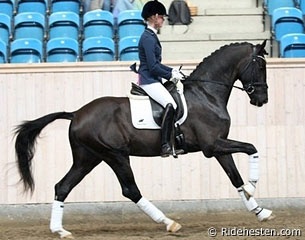 DNA research has revealed that the sire of the 3-year old Danish warmblood stallion Sezuan is not the initially announced Blue Hors Romanov, but in fact Blue Hors Zack (by Rousseau x Jazz). A mandatory DNA research for Danish licensed stallions exposed this new information.
The black stallion was bred by Linette Jæger and later acquired by Andreas Helgstrand. The Danish Grand Prix rider prepared the black stallion for the licensing, where he impressed the judges and crowds with his phenomenal movement mechanism.
Sezuan was licensed for breeding for the Danish Warmblood society, but because a remark on the OCD in his knee he was refused from the premium ring. The stallion completed his 10-day stallion performance test in Vilhelmsborg with success.
Patrik Kittel's sponsor Arlette Jasper-Kohl acquired a share in the colt and owns him now together with Helgstrand.
"We were totally surprised with the results of the DNA research. That does not diminish the quality of our Sezuan in any way because he comes from one of today's strongest performance mare lines and the top sires Zack, Don Schufro and Lionell are found in a direct line," commented Andreas Helgstrand in agreement with Arlette Jasper-Kohl and her husband Edwin Kohl.
Blue Hors stud explained on their website that Sezuan's dam Don Romina (by Don Schufro x Lionell) was initially inseminated twice with Romanov at the beginning of June 2008. The mare was not in foal and at the end of June Helgstrand (who owned Don Romina at the time) switched to Zack and the mare caught. Unfortunately the breeding protocol with the insemination dates, which was officially sent to the National Office for Horses, listed the covering of Romanov and was never updated with the covering of of Zack.
The Danish National Office for Horses always sends a receipt after the documents have been received at their office. This receipt was not properly checked in order to discover the error in time. Strangely Helgstrand promoted the 2,5 year old Sezuan as a Romanov offspring on his website, well aware that back in 2008 his mare  didn't catch on Romanov breeding and was rebred to Zack.
Sezuan's licensing status still stands even though he is now sired by Zack.
The revelation of Sezuan's new sire does pose a problem for Danish mare owners who have already inseminated their Zack mares with Sezuan as it might have caused unwanted line-breeding for them.
Photo © Ridehesten.com
Related Links
Sezuan Stands Out at 2012 Danish 10-day Stallion Performance Test
Sezuan Sold to Patrik Kittel's Sponsor Arlette Jasper-Kohl