Australian Dressage News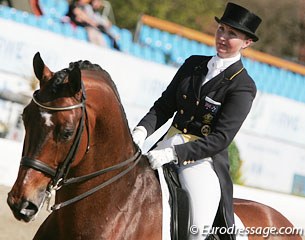 German based Kristy Oatley has been added to the 2012 Australian Olympic Shadow team. Oatley was allocated the previously vacant eighth dressage spot on the team. She can now earn an Olympic berth by contesting the Australian Olympic Nomination events.
Kristy Oatley will be riding her 12-year old Holsteiner gelding Clive (by Caletto I). Oatley and Clive join the remaining combinations listed for the nomination events having recently achieved the Minimal Eligibility Score (MES).
The eight member shadow team will compete at Olympic Games nomination events in Manheim from 3-8 May and Compiegne from 31 May – 3 June.
The 2012 Australian Olympic Shadow Team includes:
Hayley Beresford and Bellisimo
Mary Hanna and Sancette
Lyndal Oatley and Potifar
Brett Parbery and Lord of Loxley
Rozzie Ryan and GV Bullwinkle
Rachael Sanna and Jaybee Alabaster
Chantal Wigan and Ferero
Kristy Oatley and Clive
Photo © Astrid Appels
Related Links
Kristy Oatley Pre-Nominated for Australia for 2008 Olympic Games
Kristy Oatley-Nist, Australian Nomination for the 2004 Olympics