2012 CDIO Wellington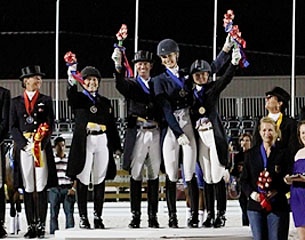 Team USA 1 bested the five teams battling for top honors in the $35,000 Wellington Dressage Nations Cup CDIO-3* on Saturday evening 14 April 2012.  Team Europe took home the silver and Team USA 2 captured the bronze in an exciting FEI Intermediare Freestyle competition held under the lights at the Stadium show grounds of the Global Dressage Festival.
The top five placed teams of the Prix St Georges moved forward to the FEI Intermediare Freestyle  Team placings were based on the top three Freestyle scores of each Team.  The percentages were added together and then the top team was the one with the most points/highest added percentage.
Christopher Hickey and Witness Hilltop led Team USA 1 with a score of 71.425%, Caroline Roffman on Pie scored 70.050%; Shelly Francis with Doktor garnered 68.650% and Devon Kane riding Destiny earned 67.525% for a total of 210.125 points.  Hickey enjoyed the whole Nations Cup experience.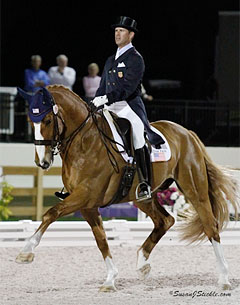 "Being on a team is a very special thing," said Hickey.  "It's a great experience to go to the ring and support your teammates.  It's also great to have someone help out like our Chef d'Equipe, Eva (Salomon) and then to have a team coach like Anne Gribbons.  It's a wonderful feeling to have your owner and small group there for you as well as a chef and a coach."
Kevin Kohmann (GER) and Klouseau's score of 70.825% helped secure the silver for Team Europe, but the crowd needed to wait for the last rider, Mikala Gundersen, (DEN) and My Lady before the medals could be determined.  The pair finished with 70.475%.  The third team Europe member, Katharina Stumpf, (AUT) and For My Love earned 68.075% for a team total of 209.375 points.
Stumpf beamed as she spoke of the competition. "It was really amazing to fight for the team, to make friends, and to work together," said Stumpf.  "I never dreamed of something like this."
Team USA 2 was led by Laura Graves on Verdades scoring a 70.400%; Tom Noone and Fred Astair with 68.675%; and Jane Cleveland receiving 64.675% on Rodeo Queen. They finished with 203.750 points.
The Latin America I team was fourth with Marco Bernal (COL) on Farewell IV, Alejandro Gomez (VEN) riding Revenge and Irina Moleiro de Muro (VEN) on Sambuca finishing with 197.225 points.  Fifth place went to Latin American 2 with Mica Mabragana (ARG) on Cuatrero IV, Jessica McTaggart (CAY) riding Ray of Light and Luis Reteguiz-Denizard (PUR) on Nalando scoring 186.425 points.
David Marcus Leads Canadians In Sweep Of Intermediare I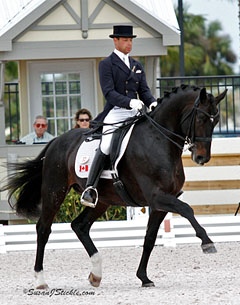 David Marcus and Chrevi's Capital led the Canadians in a sweep of the top three places in the Intermediare I at the WEF Wellington Dressage Nations Cup on Saturday afternoon.
Marcus' score of 69.211% was followed closely by that of fellow Canadians Chris Von Martels aboard Udon P with a 67.974%, and Diane Creech on Hallmark with a score of 66.132%.  
"My horse was more confident and relaxed today," said Marcus.  "The test rode better, I was very happy with him.  Yesterday was not his best day, I think it was because of Friday the 13, so for him to come back and be so great today really pleased me."
Chrevi's Capital is just starting his Grand Prix career.  The 12-year-old Danish warmblood, owned by Deborah Kinzinger, has given Marcus solid performances this season, and now has given him his first Nations Cup experience.   "This is a great event," said Marcus.  " We have really enjoyed coming together as a team. This is my first time riding on a Canadian team.  I'm a new Canadian.  I've lived in Canada since I was 18 but I just became a citizen, so for me the Nations Cup was really exciting."
Marcus, who hails from Campbellville Ontario, grew up in the United States but relocated to Canada where he now operates a highly successful training facility. His extensive show ring experience allows Marcus to pass his skills onto his students and in addition to his expert coaching, his talent in the saddle makes him a highly sought after trainer of young horses.
Photos © Sue Stickle
Related Links
Scores 2012 CDIO Wellington
Caroline Roffman And Pie Are Superb at Wellington Dressage Nations Cup CDIO
Small Tour CDIO Nations' Cup to Kick Off at 2012 Global Dressage Festival