2012 CDN Keysoe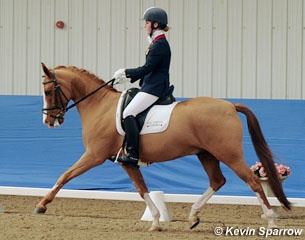 Britain's best youth riders reeled in top scores at the second premier league British national competition for Under 21 riders held at The College Equestrian Centre in Keysoe, Bedford, United Kingdom on 23 - 25 March 2012. The British pony, junior and young riders got the opportunity to ride according to championship format with three classes scheduled in a row over the weekend.
Keysoe is the second observation trial for British Under 21 rider after the CDN at Myerscough College. The CDI Addington begin April will be the first international competition of the 2012 where British youth riders can show form and earn credit towards British team selection for the European Championships held this summer.
Williams, Witkin, Scruton In Front in Pony Division
No less than 26 pony combinations gathered at The College for the Pony Team Championship Test on Saturday 24 March 2012. Five duos were able to crack the magical 70% barrier and Erin Williams took highest honours on her palomino German Riding Pony mare Dynasty (by Deinhard B) with a smashing 75.064%. Williams continued to finish second in the individual test with 70.24%.
"I had an amazing weekend, winning the pony section with 75.06% and winning the junior section with 71% (on Fleurie)," said an ecstatic Erin Williams. "I love my girls a lot!"
Phoebe Peters and her brand new pony SL Lucci (by Lukas) placed second in the team test with a whopping 75.00% and continued to shine that weekend with a third place in the team test (68.90%) and a second in the freestyle (75.25%).
"It was the first time Phoebe had ever ridden the Individual and Freestyle and she was absolutely thrilled with all three tests," a proud mom Tracy Peters told Eurodressage.
The 14-year old Bethany Rose Horobin had a concentrated ride on former British top team pony Gigolo (by Going East) and secured a third place in the team test with 72.885%, which creates possibilities for her to grab a spot on this summer's British pony team.  Maisie Scruton and the black German pony stallion Rembrandt (by Renoir) were fourth in the team test with 72.564% and won the freestyle with 76.13%. Aimee Witkin took a rocky start in the team test with her Danish gelding Ferrari (by Malibu II), she won the individual test with 71.34% being only one of two riders to score above 70% in the class.
Williams, Vell, Fry Go for the Junior Blue Ribbons
In the three junior riders classes at Keysoe the ranking got quite shaken and stirred in each class, with different riders taking the high placings. Pony rider Erin Williams left no doubt about that the she's a pair to be reckoned with as she won the team test on the Hanoverian mare Fleurie (by Florestan x Akzent II) with the only score above 70%, namely 71.15%. Abigail Slater finished second on Judy Harvey's former horse Lou Wega with 66.89.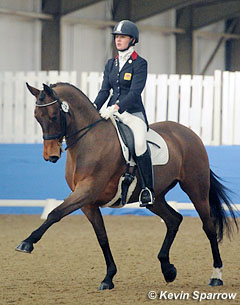 In the individual test former pony riders completed the top three and they all finished on the same score of  67.76%. Pony rider Chloe Vell saddled the Hanoverian mare Kaja di Valentina (by K2 x Weltmeyer) to win the class based on her highest collective marks. Her mare was originally bought by Jacqui Walker at the Verden Elite Auction in Germany as a 4-year old and previously ridden by Philippa Jane Fisher. Kaja sold to the Vell family in November 2011. Ferrari's former owner and rider Charlotte Gill placed second with the same 67.76% on her German bred Gryffindor (by Giorgione S) and she tied with former pony rider Gaby Lucas on the Danish warmblood gelding Laurentius.
"I had a good weekend at Keysoe," said a happy, winning Gaby Lucas. "I'm so pleased."
In the Kur to Music Charlotte Fry and Ghandi aced the class ith 72.50% and she was followed by Joanna Thurman Baker, who took the ride on her sister's 10-year old British bred Hanoverian Highcliffe Apollo (by Dev Lenz), with 70.19%. Victoria Appleyard and Sir Willy were on their heels with 69.13%.
Hardwick Rules in the Young Riders Division
Alex Hardwick brought three horses to Keysoe for the Young Riders' division and dominated both the team test and freestyle with her armada. The professional rider, who runs her own yard, Hallingbury Hall Equestrian Centre, with her mom Alex, took her Hanoverian gelding Calvin G (by Contender x Graf Sponeck) to a first place in the team test with 69.87%. She also finished second on Rotspon's Rockin (by Rotspon) with 67.70. Roberta Hayler and the 22-year old Hanoverian Active Walero (by Wanderer) were third with 66.84%.
Harwick opted to ride horses in the freestyle and skipped the individual test. She won the kur with Calvin G on 70.88% and finished fourth with Rotspon's Rockin (67.81) and fifth with Donauwein (67.38%). Olivia Towers and her beautiful black Flyaway Wish (by Weltmeyer) were second on a strong 70.38%, while Eilidh Grant and the British bred mare Comanche Crumble (by Cassander) were third with 68.94%.
Earlier Aberdeen based Grant and her bay mare Comanche Crumble won the individual test with 69.211%. Emma Corbett and her gorgeous chestnut Furst Diamantino (by Furst Heinrich x Diamantino) were second on 68.816% and referred Emily Harris on Judith Sharrock's 17-year old Hanoverian gelding Washington (by Walt Disney) to a third place (65.855%).
Grant commented that it was an "ace weekend". She rode her first individual test and received 8s on her score sheet for it. "I'm very pleased (with my) clever crumble."
Text by Astrid Appels
Photos © Kevin Sparrow - Kevin photographed all classes at the CDN Keysoe and pictures can be ordered through his website!
Related Links
Scores 2012 CDN Keysoe
Scruton, Williams, Haylor Lead at 2012 Kick Off CDN at Myerscough College