Canadian Dressage News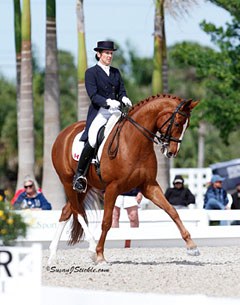 Diane Creech of Caistor Centre, ON has been named the Dressage Canada Equestrian Athlete of the Month for February 2012. Throughout February Creech posted very consistent results in Florida in international competitions.
Creech rode Devon L, a 12-year-old Hanoverian gelding sired by De Niro, and Hallmark, an eight-year-old Hanoverian gelding sired by His Highness, both owned by Douglas Leatherdale.
At the Wellington Classic Dressage Spring Challenge CDI West Palm Beach held February 9-12, Creech, riding Devon L, placed third with 68.532% in the Grand Prix and fifth in the Grand Prix Special tests, scoring 67.044%. With Hallmark, Creech was third in both the Prix St. Georges (65.342%) and Intermediaire I (68.789%). The pair also finished fourth in the Intermediaire I Freestyle, scoring 67.792%.
Creech also placed sixth in the Grand Prix Freestyle with Devon L, with a score of 66.525% at the Global Dressage Festival, CDI Wellington, held February 17–19.
"I am honoured to be named the Dressage Canada Athlete of the month for February," Creech said. "Mr. and Mrs. Leatherdale are delighted to see how my focused training with Lars Petersen is reflected in great scores for Devon L and Hallmark at the shows in February. Both horses are happy in their work. We will continue our efforts to proudly represent Canada."
The Dressage Canada Equestrian Athlete of the Month is a recognition program that celebrates the achievements of Canadian dressage riders who represent Canada in national and international competition in the FEI Pony, Children, Junior, Young Rider, Advanced, Grand Prix and Young Horse classes.
Photo © Sue Stickle
Related Links
Eurodressage Photo Database: Diane Creech
Canada's Diane Creech Wins Sportsmanship Award at 2011 CDI-W West Palm Beach
Creech Drops Out, Byng-Morris On 2011 Canadian Pan Am Team