2012 CDN Myerscough College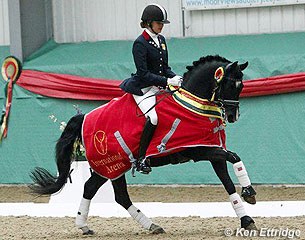 The first 2012 Premier League show in Britain took place last weekend at Myerscough College near Preston, Lancashire. Running 8 – 11 March, the show featured a mammoth eight-hour Prix St Georges class on Saturday as well as the first official British pony and junior riders team selection event of the season with tests on Sunday. The Young Riders battled it out on Saturday afternoon.
The premier league at Myerscough College was the first of three pony selection shows, of which all riders have to do at least two. The event was quite special for the youth riders as it turned out to be the venue where new comers and team candidates SL Lucci as well as Gryffindor, Laurentius, Marinetty and Fleurie had their British debut. 
Jo Graham, Islay Auty and Paul Hayler judged the ponies while Trond Asmyr and Clive Halsall assessed the juniors.
The pony division was won by Maisie Scruton on the German Riding pony stallion Rembrandt (by Renoir), followed by team mate Erin Williams on the palomino mare Dynasty (by Deinhard B x Arts Dancer Boy). Scruton scored 72.22% but had Williams on her heels with 71.28%. Brand new pair Phoebe Peters and SL Lucci, slotted in third with 67.39%. 
Erin Williams also made her junior riders' debut with the experienced Hanoverian mare Fleurie (by Florestan x Akzent II) and won the class with a massive 73.04%. Jessica Knaptan and her dark bay Remarkable were second with 68.38%, while debutantes Gaby Lucas and the Danish warmblood Laurentius were third with 67.51%. Newcomers Charlotte Gill and Gryffindor (by Giorgione) ranked fourth with 66.86%.
In the young riders' division Roberta Hayler made her first show appearance aboard her new ride, Active Walero. Nicola McGivern's former British Grand Prix team horse was previously campaigned by Susie Coleridge-Smith but this year Hayler is aiming for a British Young Riders team spot with the Wanderer offspring. They pair scored 68.60% to win the YR Team Championship Test. Emma Corbett and her refined chestnut Furst Diamantino (by Furst Heinrich x Diamantino) narrowly edged out Eilidh Grant on the British bred mare Comanche Crumble (by Cassander). Corbett got 66.75% from the judges while Grant earned 66.58%.
Next Premier League is at The College, Keysoe in a couple of weeks and has been split over 2 weekends with the first weekend being just for the under 25s. The third observation event is the CDI Addington in April.
Photos © Ken Ettridge
Results - 2012 CDN Myerscough College

Pony Riders Team Championship Test
1. Maise Scruton - Rembrandt - 72.22
2. Erin Williams - Dynasty - 71.28
3. Phoebe Peters - SL Lucci - 67.39   
4. Charlotte Fry - Andexer -  66.88 
5. Robyn Smith- Siepkes Celtic - 66.62  
6. Carmen Gammie - Champagne Bubbles  - 66.54 
7. Jessica Wade - F.E.H Tipentwys Del Boy - 66.15 
8. Harriet Williams - Madams Miss Maria - 66.11
9. Lucy Pincus - Sheepcote Sand Martin - 65.85    
10. Amber Barton - Doctor Little - 65.68 
11. Harriette Williams -Daylight MW - 65.09 
11. Chloe Vell - Danger - 65.09  
13. Annie LLoyd-Aylett - Don Peppone - 64.74   
14. Alexandra Snape - Lionceay - 64.66  
15. Alex Hellings - Dublin - 63.38  
16. Ruth Hole - Bernwode Brokat - 63.29   
17. Annie Lloyd-Aylett - Eindershof Jamai - 62.82    
18. Bethany Shipley - Kastanienhof's Vitus - 62.48
19. Charlotte Granger - Brer Fox II - 61.11    
20. Alicia Patrick - Schermeers hof Arendsoog - 60.90
Junior Riders Team Championship Test
1. Erin Williams  - Fleurie - 73.04   
2. Jessica Knaptan - Remarkable - 68.38
3. Gaby Lucas - Laurentius - 67.51
4. Charlotte Gill - Griffindor - 66.86   
5.  Elspeth Day - My Delilah - 66.76
6. Laura Woodcock - Rubin - 65.54
7. Roxanne Shipley - Affinity - 65.47 
8. Chloe Hunter - Saphira - 64.59
9. Tess Harwood - Fan Farron - 64.53
10. Sarah Thomas - Marinetty TSF - 64.46
10. Robyn Smith - Foold U2  - 64.46    
12. Chloe Hunter - Ovieto - 64.12
13. Harry Humprey - Master Mind - 63.78 
14. Chloe Vell- Kaja Di Valentina - 63.18   
15. Tess Harwood - Watteau Ha - 60.95      
16. Antonia Oakes - Don Princess - 60.00   
Young Riders Team Championship Test
1. Bobby Hayler - Active Walero - 68.60
2. Emma Corbett - Furst Diamantino - 66.75 
3. Eilidh Grant - Comanche Crumble - 66.58
4. Alexandra Barr - Pablo - 64.96
5. Olivia Towes - Mercian Flyaway Wish - 64.87
6. Olivia Oakeley - Donna Summer - 64.52
7. Henry Day - San Remo - 63.51
8. Annastasia Neale - Romanze in Dur - 63.42
9. Casey Stickland - Seigneur - 62.11
10. Josetin Gyllensward - Tobias - 61.93
11. Gemma Maddocks - El Passo Van Overis  - 60.48
12. Kristina Rausing - Renommee - 55.48         
13. Ryan Todd - Charlex Eskebjerg - 53.73
Related Links
British Pony, Junior, Young Riders Squads for 2012 Announced
Antoinette te Riele's Fleurie Sold to Erin Williams
Danish Owned Fern Hill Derry and Laurentius Sold Abroad