2012 Olympic Games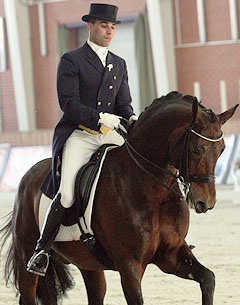 The Dutch based and born Moroccan rider Yessin Rahmouni has qualified as individual rider for the 2012 Olympic Games. Rahmouni obtained his Olympic berth with his routinier Only Society, but at the Games in London he will be riding Floresco NRW, owned by Moroccan Princess Lalla Amina.
Rahmouni is born in Haarlem, The Netherlands, to Moroccan parents and has always ridden and competed for The Netherlands until he switched nationality in 2011. The sympathetic rider was approached by Princess Lalla Amina (aunt of the Moroccan King), who acquired Patrik Kittel's 2008 Olympic mount Floresco NRW for Rahmouni's Olympic campaign.
In a blitz krieg attempt to obtain the necessary Olympic qualification scores Rahmouni travelled regularly to the CDI Zhashkov in Ukraine, where VIAN Group organized a string of CDI competitions in order for their own Ukrainian rider Inna Logutenkova qualify for the Games. For this Olympic effort VIAN Group also hired Rahmouni's trainer Anky van Grunsven to help them in accomplishing their goals and Rahmouni has been commuting to the country as assistant trainer on a regular basis.
Rahmouni competed Floresco as well as his own Only Society both at the CDI's in Zhaskhov as well as the CDI Wroclaw in Poland and ended up grabbing that Olympic spot not with Princess Lalla Amina's Floresco, but with his 16-year old chestnut Dutch warmblood Only Society (by Damocles x Cassis xx).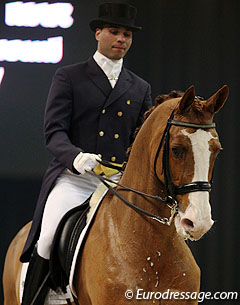 The 27-year old Rahmouni will be the first representative of an African country to compete at the Olympic Games in dressage. At a press conference in Morocco, Rahmouni said, "I think it's fantastic that I'll be the first representative of an entire continent in dressage at the Olympic Games. The support I got from Princess Lalla Amina is incredible. This princess is the president of the Moroccan Equestrian Federation and she acquired the 13-year old stallion Floresco for me."
The foundation for the contact with the Moroccan royal family was lain during a summer holiday in the country. Rahmouni was jet-skiing in the same place as the King and the two got acquainted. "We started talking about equestrian sport on the beach and the King put me in touch with his aunt. This led to her realizing my Olympic dream by buying Floresco."
Rahmouni started riding as a 7-year old and did his first competition as a 15-year old. He works at Tommie Visser's stable and is Van Grunsven's assistant trainer in Ukraine."
Rahmouni was a member of the Dutch Rabo Talent Team, Dutch Under 25 Future team and is currently a member of the KNHS Trainers Platform.
Photos © Equestrian.ru / Astrid Appels
Related Links
Eurodressage Coverage of the 2012 Olympic Games
Floresco NRW Sold to Morocco
Full Body Awareness to Improve Rider's Seat