Canadian Dressage News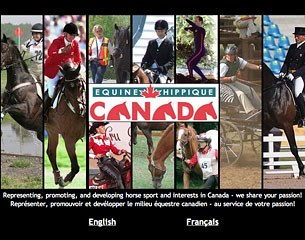 Equine Canada's Sport Council Working Group has completed its review of Dressage Canada, including reaching out to key individuals, volunteers and representatives from stakeholder groups within the Dressage Community.
A comprehensive questionnaire was sent directly to approximately 60 stakeholders within the Canadian dressage community. The Dressage Canada membership was also invited to complete the questionnaire.
The Working Group was very encouraged to receive over 50 responses, which included not only those who responded to the questionnaire but also interviews conducted by telephone and in person. 
Upon review of the information received, the following recommendations were formulated and presented to both Sport Council and Dressage Canada Board during the 2012 Equine Canada Convention held in February.
a)    The issues regarding the Technical Leader are of upmost importance in this Olympic year. The Working Group is encouraged that Dressage Canada recognizes this as a priority issue and has since sent a questionnaire to all listed and Olympic-declared athletes in order to provide more information and determine the course of action required.
b)    Sport Council should appoint, from outside the dressage community, an experienced Chair to the Dressage Canada Board for a minimum of one year. This would help to provide the Dressage Canada Board with the required skill sets, unencumbered by any perceived conflict of interest, to help quickly optimize their performance.
c)    Dressage Canada sub-committee chairs, or a designate delegate from each committee, must sit on the Dressage Canada Board. The Working Group acknowledges that Dressage Canada has already begun this process with changes to their Governance Manual in 2010, including a 3-year transition strategy, and recommends that the process be accelerated.
d)    Active FEI Dressage Officials should not be a member of the Dressage Canada High Performance Committee or the Dressage Canada Competitions Committee. Instead, these officials should be consulted on an as needed basis. Given the nature of these committees' responsibilities, this would assist in protecting both active FEI Officials and the committee from the perception of conflict of interest.  The Working Group acknowledges that Dressage Canada has previously sought to address this concern, in particular the role of Chair, raised by their Athletes Council.
e)    The Chef d'Equipe should not simultaneously serve as an Athlete Representative as he/she must play a significant role in the Dressage Canada High Performance Committee within the role of an official support team member.
f)    It should be recognized by athletes the importance of the Athletes Council's role and the Athlete Representatives' roles in representing all athletes to ensure solid communication between athletes and the Dressage Canada Board and its sub-committees. The Working Group looks forward to a re-energized Athletes Council, with increased engagement of this important stakeholder group.
Although not part of its original mandate, the information collected by the questionnaire proved to be so valuable that the Working Group made a further recommendation to Sport Council that a generic survey is annually conducted with sport license holders, with the information collected disseminated to the applicable disciplines.  This will provide important feedback to both Sport council and the disciplines as well as help to identify areas of concern.
The Working Group's report was accepted by Sport Council and well received by the Dressage Canada Board. The Working Group is very encouraged that Dressage Canada has already taken steps to address the recommendations made.
The Working Group is now working with Dressage Canada to identify a candidate for chair of the Dressage Canada Board, who would subsequently be ratified by Sport Council. The Working Group will remain in place for a minimum of six months in order to monitor Dressage Canada's progress.
The Working Group sincerely thanks the Canadian dressage community for candidly sharing their views, experiences and providing input. The Working Group also thanks Dressage Canada for their continued work on behalf of the sport, their welcomed acceptance of the Working Group's report, as well as their quick call to action in order to address several of the recommendations.
Background
In December 2012, Equine Canada's Sport Council formed a Working Group in response to the number of resignations experienced by Dressage Canada in 2011, in addition to ongoing problems and issues Dressage Canada has repeatedly faced. The Working Group's composition included the 2011 Chairs of the Olympic and Paralympic Disciplines, Chair of Sport Council and the Athlete Rep to Sport Council. The Working Group was tasked with reviewing the situation in Dressage Canada and providing a report to Sport Council, including recommendations.
The Sport Council Working Group is chaired by Peggy Hambly, Chair, Canadian Eventing Committee, and includes of Kerri McGregor, Chair, Equine Canada Sport Council, Renee Young, past Chair, Dressage Canada Board, Isabel Reinertson, past Chair, Para- Equestrian Committee, JT Taylor, Chair, Jump Canada Board, Colin Schmidt, Chair, Sport Council High Performance Committee.
Since January 1, 2012, the Dressage Canada Board has been co-chaired by Kerri McGregor (Chair, Sport Council) and Mike Gallagher (President, Equine Canada) on an interim basis while the Sport Council Working Group carries out their mandate. Kerri and Mike will remain as co-chairs until such time that Sport Council appoints a new Dressage chair. The Sport Council Working Group is currently working to identify candidates for this position, and it is anticipated that a new chair will be in place within the coming weeks.
Related Links
Equine Canada Sport Council's Working Group to Review Dressage Canada
Dressage Canada Announces Changes to its Board
Lorraine Stubbs Successfully Appeals Resignation from Dressage Canada Board