2012 Olympic Games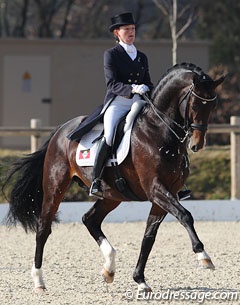 Riders from 41 nations have qualified to compete in the equestrian events at the London 2012 Olympic Games, which take place from 2 - 9 August 2012.
The FEI Olympic Athletes Rankings in Jumping, Dressage, and Eventing were published today on 2 March 2012. They are the final stage of the qualification by nation process, which concluded on 1 March 2012.
In Dressage, 11 nations will be fielding full teams of three riders. Thirteen countries will be represented only by individual riders, who qualified through the FEI Olympic Athletes Rankings. These nations are Antigua, Austria, Belgium, Brazil, Finland, France, Italy, Japan, Morocco, Norway, Poland, Portugal, and Ukraine.
This brings the total number of countries that will compete in the Olympic Dressage competitions to 24. Germany, host nation Great Britain, and the Netherlands will each be entering four riders– a team of three and one individual qualified through the Rankings – which is the maximum number allowed in Dressage.
Australia, Canada, Great Britain, Germany, the Netherlands, Sweden, and the USA will field full teams in all three disciplines.
 
Summary - DRESSAGE
The FEI Olympic Athletes Rankings. Complete list click here.
24 nations: ANT, AUS, AUT, BEL, BRA, CAN, COL, DEN, ESP, FIN, FRA, GBR, GER, ITA, JPN, MAR, NED, NOR, NZL, POL, POR, SWE, UKR, USA
11 teams: AUS, CAN, COL, DEN, ESP, GBR, GER, NED, NZL, SWE, USA
13 nations represented by individuals only: ANT, AUT, BEL, BRA, FIN, FRA, ITA, JPN, MAR, NOR, POL, POR, UKR.
3 nations: represented by a team and one individual: GBR, GER, NED
50 riders
Photo © Astrid Appels
Related Links
Eurodressage On the Scene at the 2012 Olympic Games