2012 CDI-W Burbank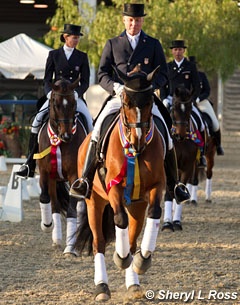 A curious crowd gathered to watch Steffen Peters and his potential new superstar Legolas hit a double whammy riding to victory for the second day in a row at the 2012 CDI-W Mid Winter Dressage Fair in Burbank, CA, the first Olympic Games qualifying competition of the year on the West Coast.
Peters and Legolas Take Two in Burbank
The Olympic Grand Prix Special Test got off to a rocky start as the first two riders were both excused from the ring. Leslie Webb rode the wrong test with the 15-year old Oldenburg bred Harmony's Sandro (by Sandro Hit) and Lindsey Stroh's Lancelot bit his tongue and had blood on his mouth.
Things picked up rather dramatically after that with Steffen Peters and Four Winds Farm's ten-year-old Westfalen gelding (by Laomedon) putting in an amazing ride which earned them 74.289%. The improvement of tempo and overall consistency compared to yesterday's Grand Prix was impressive. Legolas' canter work was much stronger throughout the difficult test which was his first GP Special performance in the the horse's career. The trot as well as piaffe and passage thrilled the audience, as they were relaxed, consistent and effortless. The only weak spot were the  canter pirouettes.
The Ground Jury members agreed that Legolas showed great promise.  "He is still a little insecure in a couple of the movements, but the overall presentation is wonderful," noted Jayne Ayers (4* USA). "He is only going to get better and better."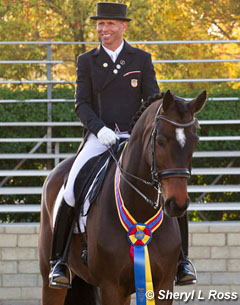 A very pleased Steffen Peters said, "I have so much fun riding this horse. He felt super today. This test was so important for him and he stepped up to the challenge. Every ride, he just gets better and better by leaps and bounds. I had a lot of fun out there today." Owner Akiko Yamazaki added that, "watching him today it felt like it was 3 years between yesterday and today. It's hard to believe that he can improve that much in just 2 days. He was everything and more today. Unbelievable."
Placing second with 67.778% was Kathleen Raine and the 12-year old Hanoverian mare Breanna (by Brentano II). The pair had some strong moments that were unfortunately interrupted by some mistakes in the first part of her trot half pass and again in one of her pirouettes.
"She has some unfortunate mistakes and she was tired today," said Raine. "But overall, she is getting stronger and she's handling the stress really well. She wasn't 100% confident with the test. We'll work on that before the next show."
Kim McGrath riding Arianthi Ferronato's 9-year-old Dutch Warmblood gelding "Winslow" (by Obelisk) finished third with 65.933%, while Guenter Seidel followed in fourth place with 65.800%. Seidel's test started out really well and had some nice moments, but there was a refusal in the first piaffe. However, Guenter quickly got Fandango back under control. A few more mistakes crept into the tempis and pirouettes which reduced the score.
"Fandango's never done the Grand Prix Special test and he didn't know what to expect," Seidel told Eurodressage. "I have a great deal of confidence in him."  Fandango's owner Marie Meyers added that, "you have to keep in mind that Guenter's only had Fandango for three weeks and he's never done this test before. And he and Guenter are figuring each other out. After all, he's been used to a 5'2" rider and now he has a 6'2"rider. I'm pleased with this show."
Ebeling Rides for World Cup Finals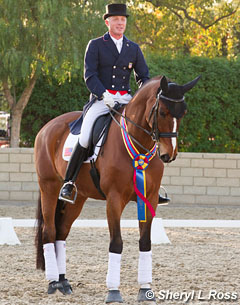 Only two riders were entered for the World Cup-qualifying Grand Prix Freestyle and Jan Ebeling and Rafalca showed why they are ready for a possible return trip to the World Cup Finals.  Ebeling showed off the 14-year-old bay Oldenburg (by Argentinius x Rubinstein) mare's best movements in a technically demanding routine, earning high praise and 73.600% from the judges. Rafalca shined with the music and her performance was decidedly better than the previous day in the Grand Prix. The bay mare was much more engaged and energetic.
""She was really on today and enjoyed herself out there," Ebeling told Eurodressage. "She's gotten a lot more confidence with herself and grown into a rock solid Grand Prix horse."
Judge Jean Michel Roudier liked the high degree of technical difficulty in Ebeling's ride. "There were very difficult components but done exceptionally well," said Roudier.  "We especially liked the piaffe fan at the end, and the test flowed so nicely to well-chosen music which suits the horse."
Jan Ebeling's (and Kathleen Raine's) coach Christine Traurig was proud of her students' accomplishments in Burbank. "I couldn't be happier with Jan and Kathleen. I love working with both of them and they did really super at this show."
Yvonne Losos de Muniz flew in her Holsteiner gelding Liebling II (by Lorentin) especially for the CDI-W Burbank in order to obtain the final point for the FEI Riders' Ranking before the Olympic cut-off date of 1 March 2012. In the Kur to Music the rider from the Dominican Republic put down a solid test. The piaffe and passage were more engaged and regular. The entire test was ridden with much more confidence.
Small Tour Action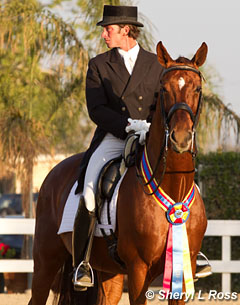 David Blake rode Willard and Teresa Simmons' impressive 11-year-old Oldenburg stallion Royal Prinz (by Royal Diamond) to victory with 69.132% in the Intermediaire I Test.  "This was clearly the steadiest ride in this class - and today the rider had a lovely, soft feel on this very elegant horse," explained Linda Zang (5* USA). 
Guenter Seidel rode Lara Schleining's 12-year old mare Feodora to second with a score of 67.868%, while Nichole Smith earned third (65.184%) with Ebikur, an 11-year-old Oldenburg gelding by Epikur and owned by Patricia Gillian.
In the CDI Young Rider division, placings mirrored the previous day's contest as Brandi Roenick and her own 13-year-old Dutch Warmblood mare Pretty Lady (by Iglesias) continued their winning ways with a score of 68.640% to top the field in the Individual Test.  Following in second was Mackinzie Pooley earning 67.412% with Deena Smith's Brigadier (by Batido) and Amelia Child riding Veto to third with 67.149%.
Photos © Sheryl L Ross
-- Cornerstone PR, edited and completed by Eurodressage
Related Links
Scores 2012 CDI-W Burbank
Peters and Legolas Win Grand Prix at 2012 CDI-W Burbank