2012 World Championships for Young Dressage Horses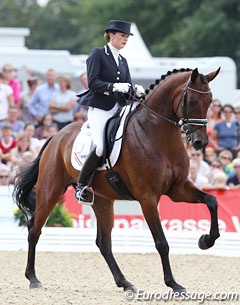 The Dutch Equestrian Federation (KNHS) and Dutch Warmblood Society (KWPN) have made their first announcements concerning the beginning of the Dutch selection process for the 2012 World Championships for Young Dressage Horses, held in Verden, Germany on 1 - 5 August 2012, regrettably at the same time as the Olympic Games.
The Netherlands is allowed to field seven horses per age division in total and joins Germany in being allowed the highest number of horses per country (based on the size of their studbook).
In order to build their team, the KNHS and KWPN organizes a first viewing day to which the 30 best performing horses of the 2011 Pavo Cup Finals are inivted as well as the winners of all the Pavo Cup selection trials. Dutch horses that competed in the finals at the 2011 World Championships can come too. The top five of the 4- and 5-year old final of the Subli Championship will also be invited.
A special selection committee will pick out the horses that are allowed to complete the Dutch selection process which includes several training sessions and observation trials during the spring of 2012. The committee can give two wild cards to horses which do not fulfil the above requirements.
The first viewing day, where wild card candidates can present themselves, will be held on 27 March. The committee will decide which horses can compete at the Dutch selection trials. Horses have to be KWPN or NRPS registered.
On that day horses will be presented in the arena in small groups. They do not have to ride a test but have to be trained at the required FEI young horse level.
Photo © Astrid Appels
Related Links
Charon, Beau Sejour, Anoraline Win 2011 KNHS Subli Championships
Charmeur and Borencio Win 2011 Pavo Cup Finals
KWPN Prepares for 2011 World Young Horse Championship Selection Trials