2012 VSN Trophy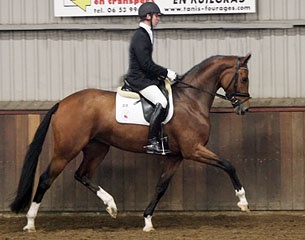 The 3-year old bay mare TC Dolly won the 2012 VSN Trophy Finals at equestrian centre De Nieuwe Heuvel in Lunteren, The Netherlands on 7 January 2012. The trophy finals celebrated its 25th edition this year and Imke Schellekens-Bartels and Leida Collins-Strijk were invited as guest judges for the dressage division.
Thirty-four horses participated in the VSN Trophy Finals and four horses made it to a super-final in which Leida Collins-Strijk test rode the horses.
Tim Coomans' Dolly (by Ziesto x Osmium) scored the highest total points with a 7.2 for walk, 8.0 for trot, 9.0 for canter, 7.8 for rideability and 8.5 for general impression. With a finals total of 40.5 points Dolly was the favourite in the super finals and Collins-Strijk comfirmed that view after she rode the mare herself. With an added guest judge rider score of 9.0, Dolly and her rider Charles van Belle totalled 49.5 points to become the 2012 VSN Trophy winners.
This was the second consecutive year that one of Tim Coomans' youngsters grabbed the title. Last year TC Celanique (by Ravel x Cabochon) won the trophy and sold ten days later to Gabrielle Rost. TC Dolly was already the reserve champion of the VWF Cup for 3-year olds and reserve champion at the 2011 KWPN Mare Championships in Ermelo.
The reserve champion was Dayano, a Jazz x Kasparow offspring which used to be named Dominant. Under Danielle van Mierlo he scored solidly on his gaits (8.0 for walk and canter and 8.5 for trot), but got 7.5 for rideability and 8.0 for general impression. In the super finals he got an 8.0 from Collins-Strijk and totalled 48 points to finish second.
Emmelie Scholtens and the chestnut Dancer (by Vivaldi x Tango) were third. Her talented chestnut got 7.2 for walk, 7.8 for trot, 8.0 for canter, 7.5 for rideability and 7.8 for general impression. With an 8.5 from Collins-Strijk, Dancer slotted in third with 46.8 points.
Dynton B (by Wynton) landed a fourth place with 7.5s for walk and trot, 7.8s for canter and rideability, 8.0 for general impression and guest judge score. With 46.6 he finished the Super Finals in fourth place.
Photo © Stephanie van Houten
Results 2012 VSN Trophy Finals
1. TC Dolly (by Ziesto) - 49.5 points
2. Dayano (by Jazz) - 48
3. Dancer (by Vivaldi) - 46.8
4. Dynton B (by Wynton) - 46.6
5. Djive (aka Djazz) (by Jazz) - 37.9
6. Dynamo PB (by Painted Black) - 37.5
6. Domino (by Vivaldi) - 37.5
6. Darshan (by Vivaldi) - 37.2
9. Bekelaar's Diego (by Valeron) - 36.7
10. Dundee M (by Lord Leatherdale) - 36.2
11. Da Vinci (by Zhivago) - 36.1
12. Doris Day Sollenburg (by Uphill) - 35.9
13. Dazzling W (by Jazz) - 35.8
14. Darcy CL (by Jazz) - 35.7
15. Darenta (by Santano) - 35.5
16. Dicaprio Swing (by Jazz) - 35.4
16. Diego (by Flemmingh) - 35.4
18. Dakar (by Lord Leatherdale) - 35.3
18. Dibbert (by Vivaldi) - 35.3
20. Danci (by Ziesto) - 35.2
21. Diementa CL (by Tuschinski) - 35.2
22. Dagmar (by Veron) - 34.5
23. Dolce Vita VL (by San Remo) - 34.1
23. Denver (by Johnson) - 34.1
23. Dynton (by Wynton) - 34.1
26. Donovan (by Spielberg) - 33.5
26. Daniel V (by Lord Leatherdale) - 33.5
28. Dakar VOD (by Spielberg) - 33.2
29. Dutch Discovery (by Tuschinski) - 33.0
29. Dainty Rose (by Voice) - 33.0
29. Pastel's Don (by Conteur) - 33.0
32. Da Vinci (by Dutch Dormello) - 32.5
32. Di Sento B (by Trento B) - 32.5
34. Divaldi (by Vivaldi) - 32
Related Links
TC Celanique Wins 2011 VSN Trophy
Chinook Wins 2010 VWF Dressage Cup for 3-year olds
Bretton Woods, Winner of the 2010 VSN Trophy Finals
Annerijke Wins 2009 VSN Trophy
Zaragoza Wins 2008 VSN Trophy