British Dressage News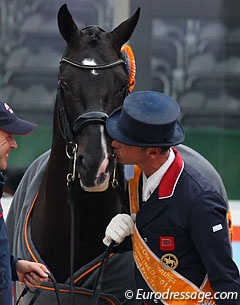 The dressage world is almost going tilt with a rumour of a possible sale of Carl Hester's Uthopia to Sweden. While the past three weeks were certainly the most stressful in Carl Hester's life ever, Eurodressage can confirm the horse has not been sold and is still in Carl's yard in Gloucestershire, Great Britain.
Although Hester has said that his horse was secured for the 2012 Olympic Games, the cards were suddenly redealt after the 2011 CDI-W London when Swedish Minna Telde contacted owner Harrison because Telde's boyfriend Johan Ulander, a Finnish business mogul developing property in the United Arabic Emirates, was willing to put a dazzling, multi-million euro amount on the table for the 10-year old Dutch warmblood stallion (by Metall x Inspekteur).
On Thursday 19 December 2011 Hester got a phone call to inform that Telde was coming over the next day to try out the horse. Carl heard this core-shaking news while driving home from London.
With no original contract in place for the sports' rights of the horse, the British double European silver medal winning rider immediately shot into action and asked Stewart for respite in order to raise the money himself. Hester has been finding share holders in his network of dressage afficionado's and has received tremendous support from British Dressage, colleagues and friends who are now assisting him to secure the horse for Great Britain.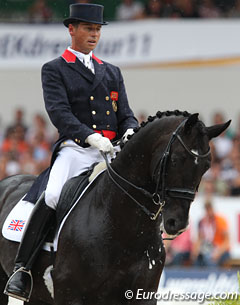 "We are raising the money by selling shares and have a legal team work everything out," Hester told Eurodressage. "Last week has been hell," Carl added as the rumour mill was spinning out of control and Carl was receiving multiple messages that the deal with the Swedes had been concluded and the horse would be picked up. Fortunately Carl was able to set those all straight as the horse and its FEI passport were still in his hands. 
The urgency of the sale was prompted by the December 31 cut-off date for ownership of the 2012 Olympic horses. Telde wanted to own the horse before 31 December while Hester was trying everything in his might to secure the horse for himself.  When the sale stalled on New Year's Eve Hester was able to celebrate with champagne at his mom's home on the Isle of Sark.
Leading up to the 2012 Olympic Games on British soil, the sale of Uthopia abroad would have been a disaster for British Dressage as the Brits won 2011 European team gold and is the strongest dressage team on the globe at the moment. A sale to Sweden would have made the Scandinavian country a very strong contender for a team medal with European kur bronze medallist Patrik Kittel as anchor rider and Tinne Vilhelmson as shooting star on her new ride Don Auriello.
"British Dressage contacted the FEI yesterday to make double sure no one had registered Uthopia," Carl told Eurodressage. "And it seems they are all too late."
Article © Astrid Appels/Eurodressage - NO REPRODUCTION WITHOUT PERMISSION
Photos © Astrid Appels
Related Links
Carl Hester Wins 2011 British Olympic Equestrian Athlete of the Year Award
Landmark Day for Great Britain Winning Team Gold with Team Record Score
Adelinde's Nerves of Steel Lead to Gold in Grand Prix Special Thriller
White Swan Cornelissen Takes the Upper Hand and Wins Kur to Music Finals