KWPN Breeding News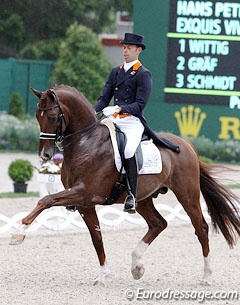 On the third viewing day of Dutch bred dressag colts in the running for a ticket to the 2012 KWPN Stallion Licensing in 's Hertogenbosch, the licensing committee selected twenty-four 2,5 year olds that can move onwards to the second phase of the licensing in February 2012.
Eighty-two colts made it to the last first phase viewing day at the KWPN headquarters in Ermelo on 17 December 2011 and a large group of offspring by Vivaldi, Wynton and Apache got a positive assessment from the committee. Vivaldi (by Krack C x Jazz) became the sire with the most sons selected for the licensing. Nine of his offspring passed the first viewing day and will continue the licensing process. 
Wynton (by Jazz x Matador) has six sons through to the next round. The Apache (by UB40 x Krack C) offspring descends from the stallion's first crop of foals when the sire wasn't even KWPN approved. Three of his sons can come back in February.
Colts making a strong impression on the last day were the Vivaldi x Balzflug and a Wynton x Belisar.
Colts accepted for the second phase are:
Eldorado (by Apache x Rhodium)
Epache (by Apache x Trento B)
Eddie S (by Apache x United)
Eros (by Citango x Cabochon)
Elcairo (by Vivaldi x Voltaire)
Escobedo (by Vivaldi x Havidoff)
Edriana B (by Vivaldi x Sandro Hit)
Empire K (by Vivaldix  Rhodium)
Etoine (by Vivaldi x Balzflug)
Eddow (by Vivaldi x Ferro)
Eye Catcher (by Vivaldi x Partout/T)
Eros L (by Vivaldi x Ferro)
E (by Vivaldi x Vincent)
Eastpoint (by Westpoiunt x Negro)
Emerson (by Wyntin x Flemmingh)
Endymion (by Wynton x Ferro)
Expo (by Wynton x Belisar)
Eros Easter (by Wynton x OO Seven)
Excellent (by Wynton x Flemmingh)
Eduward (by Wynton x Special D)
Emmerik (by Zenon x Facet)
El Diablo (by Zenon x Krack C)
Estoril (by Zhivago x Gribaldi)
Exel (by Zhivago x Farrington)
On Monday 19 December there were be a viewing day for late entries.
Detailed list of colts that passed on 17 December 2011.
Related Links
Twenty More Colts Pass First Viewing for 2012 KWPN Stallion Licensing
Eighteen Stallions Passed on First Selection Day for 2012 KWPN Stallion Licensing