2011 PSI Auction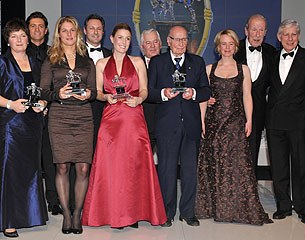 The 32nd P.S.I. Auction in Ankum is just as much a stage for equestrian sport personalities as it is for the outstanding young dressage and show jumping horses. Four P.S.I. Awards honouring extraordinary achievements in and around the equestrian sport are presented during the festivities on the evening prior to the auction. This is symbolized by a Swarovski crystal sculpture.
Janne Friederike Meyer received the P.S.I. Award Show Jumping. The 30 year old show jumper from Schenefeld won gold at the WEG 2010 as a member of the German team, followed up with her highly acclaimed victory in the Grand Prix of Aachen 2011 and then, just months later, team gold at the European Championships in Madrid. All three victories were with Cellagon Lambrasco. Presenter Julia Becker summed Janne Friederike Meyer up as somebody who stands for courage, disciplined work and strength of purpose, but equally so for charm, humour and quick-wittedness.
The Performance Sales International organizers gave the P.S.I. Award Dressage to the World Cup Final Winner and European Champion Adelinde Cornelissen of The Netherlands. The teacher, by profession, ascended to the very top of the sport with Jerich Parzival. Presenter Christoph Koschel, a medal winner himself with the German Team, recollected brilliant moments such as the victory in the World Cup Final 2011 and double gold by the European Championships this year.
Love of horses, enthusiasm for the dressage sport and a big heart for those who don't get to walk through life with ease – these are the attributes of the American Elizabeth B. Juliano who was honoured with the P.S.I. Award Supporter. Juliano is an enthusiastic dressage rider herself and is a supporter of the US dressage team. For example, she purchased the P.S.I. mare Horizon and put her in training with George Williams. Presenter Sacha Eckjans, past director of the German board of trustees for therapeutic riding, described Juliano as a lady who significantly supports therapeutic riding in the USA.
A very special P.S.I. Award – the Lifetime Award – is presented each year to a personality who has dedicated their life to horses. This year the award was presented by Constantin Freiherr von Heereman to Major a.D. Paul Stecken. The 95 year old Paul Stecken was manager of the Westphalia Riding and Driving Club for many years and following his retirement he continued to dedicate all of his time to educating horses and riders. His training style has been embossed on German riding and found it's place in the German National Federation's published recommended practice for riding and driving. Riders such as Rainer Klimke, Ingrid Klimke or also Horst Karsten were significantly aided by him. Paul Stecken stands for horse friendly and gentle training..
All information over the collection, the auction, contact persons and service is available online at www.psi-auktion.de .