British Dressage News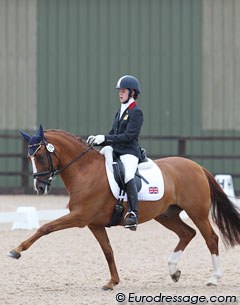 British FEI team pony Danny Boy has been euthanized today due an inoperable cancerous tumour in his throat. Erin Williams' German Riding pony had problems swallowing his feed and after a vet exam the incurable tumour was discovered.
The Williams family was forced to make the dreadful decision of humanely putting their pony down.
"Only this week he was diagnosed with a cancerous tumour in his soft palate, from which he would never recover.  Everything has happened so quick that it has been a big shock for all of us," mum Clare Williams told Eurodressage.
"I still haven't come to terms with what has happened. I didn't know I could cry so much," said a bereaved Erin Williams. 
Clare added that "this is a difficult time for Erin but she is comforted from so many touching messages she has received which only reinforces the impact that Danny Boy B has had on our lives.  It is just so sad that Erin has lost her best friend."
Danny Boy B started his competition career in Germany by finishing third in the 6-year old finals at the 2003 Bundeschampionate. As an FEI pony he made headlines with Friederike Hahn as winners of the international pony show in Willands, Sweden and 2005 CDI-P Kreuth. They were 6th at the 2006 German Pony Championships.
The pony was acquired by Dutch Antoinette te Riele in 2007. The pair made it straight to the 2007 European Pony Championships and were the best performing Dutch pair at the show. They also finished third at the 2007 Dutch pony Championships and won the 2008 National Championships. The chestnut pony gelding moved to the background when Te Riele's other pony Golden Girl became the higher scorer in her collection.
In November 2009 Danny Boy was sold to Erin Williams of Great Britain. The 12-year old Williams became British Pony Champion with him and made it onto the team for the 2010 European Championships in Bishop Burton, where they finished 13th in the Kur to Music Finals. Williams finished fourth with the team and 8th in the Kur at the 2011 European Championships in Jaszkowo, Poland.
"Danny is the pony of a lifetime for our daughter Erin and he has taught her so much," Clare explained. "We are so grateful to have known him and he has left a wonderful legacy behind him. We have had tremendous support from so many people, in particular our vet Kirsty MacGregor, and we would like to thank them all from the bottom of our hearts."
Danny Boy B was 14 years old.
Photo © Astrid Appels
Related Links
Eurodressage Photo Database: Danny Boy B
Young British talent shines at the 2010 BYRDS U25's Championships
Danny Boy B Sold to Erin Williams
Te Riele and Danny Boy B Win 2008 Dutch Outdoor Pony Championships
Photo Report: 2007 European Pony Championships
Richard Löwenherz Sold to Friederike Hahn
Forestina and Dulcia, 2003 Bundeschampionate Winners and Future FEI Stars