Dutch Dressage News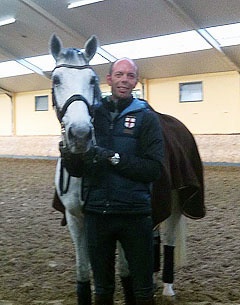 Dutch WEG Team gold medallist Hans Peter Minderhoud has a new Olympic hopeful in his barn which can help him secure a spot on the Dutch team for the 2012 London Olympics. Italian Grand Prix rider Silvia Rizzo has given him the ride on Donna Silver for 2012.
The now 10-year old Danish warmblood Donna Silver is amongst the most successful Danish mares to date. She became the 2004 Mare of the Year, she was the price highlight at the 2006 Danish Warmblood Auction in Herning. She won the Danish Young Horse Championships as a 5-year old and was reserve champion as a 6-year old.
In 2010 Donna Silver sold to Italian Silvia Rizzo who had her horse trained to Grand Prix level in a professional stable in Germany. Danish Under 25 rider Daniel Bachmann competed her first at Grand Prix level to get the grey used to the FEI show ring.
In order to let Donna Silver mature into an experienced Grand Prix horse, Rizzo has offer her to Hans Peter Minderhoud for the year 2012. Besides his number one horse Tango (by Jazz x Contango) and the Belgian warmblood stallion Whitney van 't Genthof (by Ferro) the Dutch team rider will have three irons in the fire for Olympic team or individual contention.
"I'm happy to have received the opportunity to ride her," Minderhoud told Eurodressage. "She's very nice, a real lady like Nadine. Donna Silver has  much quality, a beautiful trot and canter, great flying changes and much talent for piaffe and passage."
During the winter months Minderhoud will take his time to become a combination with the mare. "I haven't made a definite planning yet but I will start her first at some small national competitions," Hans Peter explained. "She has all the qualities for a team spot, but of course we still have to ride our first show and see. Tango is my number one horse, but I'm very happy to have three Grand Prix horses for 2012."
Rizzo Exploring New Options and Going in Different Directions
The Italian Rizzo has been training with Minderhoud since November 2011 and said it has been inspirational to work with him. "I initially went there to train my Grand Prix horse Donnerbube II and I found Hans Peter a very kind and really professional trainer. He has a very good management going on in his stables and the horses are happy there."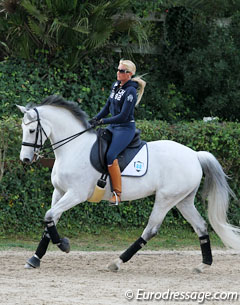 Silvia acknowledged that there was an instant connection between Donna Silver and Hans Peter. "They were together from the moment he sat on her," Rizzo explained. "When I get in the saddle after he has ridden her I have the best feeling. She's easy to ride, light in the bridle."
Rizzo finds the professional management and constructive training program at Minderhoud's barn a breath of fresh air. Her irratation with the lack of structure for Italian dressage riders contributed to her decision to give Donna Silver to a Dutch rider.
"In Italy there is absolutely no guarantee for riders to get a starting place at competitions nor the possibility to get a spot on a team with ever changing rules and amendments," said a critical Rizzo. "There is no valid nor solid program that supports the Grand Prix riders. It's been frustrating to build my career on a foundation that does not exist in my own country. For that reason owner Michele Betti and I added Hans Peter's name to Donna's passport so he gets the chance to take her to London."
The dedicated Silvia is ecstatic that a top league international dressage rider will be campaigning her mare at hopefully the biggest dressage shows in the world.
"Hans Peter will be able to secure the Grand Prix movements on my horse as well as expose her to the electric atmosphere of the biggest and most important dressage competitions in the world," Rizzo told Eurodressage. "For me it's a win-win situation. My mare gets to play in the top league and in a year I hopefully get a medal winning horse back that can be my ride for the 2013 European Championships and 2014 World Equestrian Games in France."
Related Links
Eurodressage Photo Database: Donna Silver
Danish Champion Mare Donna Silver Sold to Italy
Donna Silver, Price Highlight at 2006 Danish Stallion Licensing Auction