What's Happening in the Dressage World?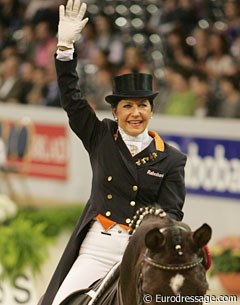 Jeannette Haazen's riding accident is proving to be more severe than initially diagnosed in the hospital. After the Dutch Grand Prix rider returned home and struggled to get out of bed and walk, a check up by the doctor this week showed that three muscles have been torn in three different places. "I only know next week where I stand after a consultation with the specialist," Haazen explained. "There's still too much blood and swelling at the moment. The diagnosis so far is that it will take at least 6 weeks until I can ride normally again. Horrible! What a set-back."
De Hoefslag reported that Leida Collins-Strijk has sold her Grand Prix horse On Top (by Jet Set D) to the Malaysian rider Quzandria Nur. The bay gelding, which recently competed successfully at the CDI Oldenburg, is moving to Anky van Grunsven's stable, where it will be trained. Nur also has an upcoming Grand Prix horse, the Danish warmblood Handsome, with which she competed at small tour level at the 2010 Asian Games.
Michał Wróblewski, Secretary General of the Polish Equestrian Federation and Board Member of the European Equestrian Federation (EEF), died suddenly on Wednesday 16 November in Rio de Janeiro (BRA) where he had attended the FEI General Assembly the day before. Michał  Wróblewski was born in 1948 in Lodz, central Poland. He studied at the Adam Mickiewicz University in Poznan and the Technical University of Lodz completing degrees in law and engineering. After an impressive career in the textile industry and as a business owner, he joined the Polish Equestrian Federation in 2003. He became the organisation's Secretary General in 2008. Mr Wróblewski was passionate about sharing his knowledge of the business world and establishing best practices for National Federation administration with his colleagues from the European Equestrian Federation (EEF). He organised a seminar on this subject for the EEF in Warsaw (POL) earlier this year.
Patrik Kittel's 2008 Olympic mount Floresco (by Florestan x Rosenkavalier) has been sold to Lalla Amina, a Moroccan Princess and president of the Federation Royal Maroc Sport Equestre (FRMSE). She has given the ride on Floresco to the Dutch Moroccan rider Yessi Rahmouni, who aims to qualify the bay licensed stallion for the 2012 Olympic Games in London. Rahmouni is trained by Anky van Grunsven.
After 10 years of loyal service Christian Flamm is leaving the state stud of Neustadt/Dosse. The head rider will be moving to Hans Heinrich Meyer zu Strohen's barn in February 2012. St. Georg reported that Flamm will still ride Lord Fantastic in the Nurnberger Burgpokal Finals in Frankfurt in December 2011.
Italian junior rider Chiara Prijs-Vitale has leased a second junior riders' horse. She will be riding the 14-year old Oldenburg mare Hot Chocolate (by Sandro Hit) previously shown by Italian Silvia Rizzo.
Horse and Hound reported that Charlotte Dujardin has bought a new horse. The British team gold medallist acquired Whybanquo, a three-year-old Woiwode (by Wolkenstein II) gelding, bred by the Headmore Stud in Hampshire and previously owned by Anne Clarke.
Swedish Grand Prix rider Pether Markne has been hired by the Finnish Equestrian Federation to coach the Finnish dressage young riders. Markne is joining Finnish Olympians Kyra Kyrklund and Piia Pantsu who support the Finnish equestrian sport. In an interview Markne said that the Finnish young riders are eager to learn. "I do not need to motivate them and they do not question me. They have opted for this and give one hundred percent and more," he said.
Heart attack? Burn? Motorcycle accident? There is a new smartphone Application out there to know which local emergency room is best equipped for your needs, at home or abroad. The Emergency Medical Center Locator (EMCL) iPhone app is developed by Dr. Bruce Moskowitz, a physician who realized the need for what could be live-saving information. Released earlier this month, EMCL is a free download and it works worldwide—from the beaches of Thailand and the canals of Venice, to the Arizona desert and the prairies of Kansas.
Sissy Max-Theurer's Oldenburg reserve licesing champion Quinzanos (by Quaterback x Stedinger) will be trained by Dorothee Schneider and standing at stud at her Gestut St. Stephan.
Danish magazine Ridehesten.com reported that Andreas Helgstrand bought Tacolando Triple R in partnership with Hanni Toosbuy Kasprzak, while Helgstrand's other sponsor Lotte Vagner acquired the 10-year old Oldenburg gelding Happy Louis (by Heslegards Louis) also at Hubertus Schmidt's place. Happy Louis will be succeeding the 19-year old Trakehner stallion Solero TSF which served as Grand Prix schoolmaster for Vagner.
Danish FEI pony rider Sille Engermann has a new pony in her barn: Leonie Richter's Janine WE whille Kristine Koch Bejtrup has acquired a second FEI pony. Besides Dornick Son, Koch will also be campaigning a gelded Don't Forget during the 2012 show seaon.