KWPN Breeding News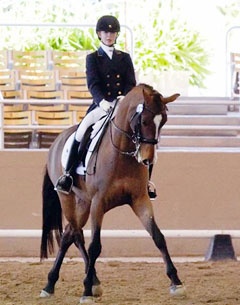 The KWPN-NA awarded $9,000 to three young riders in 2011 through the Willy Arts Grant, sponsored by Little Creek Farm. Madeleine Birch, Salt Lake City, UT; Sadie Lahey, Eagle, ID; and Catherine Chamberlain from Chandler, AZ were each awarded $3,000
to help make their equestrian dreams a reality.
The riders were able to use the funds to pay for lessons, clinics and competition expenses. All three riders parlayed their grants into successful show seasons, with each rider earning a gold medal at the 2011 North American Junior and Young Riders Championships (NAJYRC). The Willy Arts Grant is an annual scholarship award and is intended to aid in the development of KWPN-NA horse/rider combinations competing in young rider divisions.
Madeleine Birch, 20, is a full-time student at the University of Utah, majoring in Biology, with the goal of attending medical school in 2014. In the meantime, Birch rides her horse Uoeri, a 10-year-old KWPN gelding (Houston x Idorette by Kaiserstern) that was bred by H.H. Pieters. The duo made their Prix St. Georges debut this year at shows in Denver, CO and Nampa, ID and qualified for the NAJYRC, where they claimed a Team Gold Medal and finished 8th individually. "He's pretty easy going, as long as you can make him think it's his idea," Birch said of Uoeri. "He's easy to travel with and likes to show." Birch's aspirations include another trip to the NAJYRC in 2012 and then onto the Brentina Cup.
Birch began her quest for dressage success five years ago when she emailed Olympic medalist Debbie McDonald and asked for a referral for a trainer in Utah. Debbie's response? Margo Gogan, who is based in Heber City, UT. Birch recalled, "I came up for a four-week working student position in the summer and then moved in with Margo and her family. I've been with Margo for almost five years. I don't think my parents thought I'd ever come home!"
Birch, along with her friends Catherine Chamberlain and Sadie Lahey, were on Facebook discussing grants and scholarships, including the Willy Arts Grant offered by the KWPN-NA. She advises other young riders to, "Look for the grant money. I didn't expect all of this to happen, but hard work and dedication can pay off."
Chamberlain's trainer, Ashleigh Luca Tyson, encouraged her to apply for the grant. "I thought it was really great that they provided financial support to young riders," said Chamberlain, who was also part of the gold medal winning Region V young riders team at NAJYRC. The 16-year-old rides Verdicci (Krack C x Nadine's Monday by Jackson) who was bred by Tim Coomans. She's had the horse for four years and "has pretty much done all of the riding."
This was her first year at Prix St. Georges and she's been "figuring out what the FEI levels are all about. Hopefully this is the first step in a long journey for us." The pair competed in California CDIs earlier this year and considered that riding before a judging panel comprised of five international judges helped prepare them for NAJYRC and beyond, including her goal of riding in the FEI World Cup Dressage for Young Riders. "It would be really cool to represent the United States," she explained.
Sadie Lahey also would love to ride internationally. The 17-year-old, who rides with Ernst Hermann, earned the gold medal in the Junior Individual test at the NAJYRC. She credits the KWPN-NA and the Willy Arts Grant for helping make the 2011 season possible. She explained, "Without their support, I never would have been able to fulfill a lifelong fantasy. I say fantasy because I never thought I'd be able to do it!" Lahey also finds invaluable support from her trainer, as well as Jan Hermann, her parents Mike and Kathy Lahey and her brother Andrew.
Lahey rides Up to Date, a 10-year-old KWPN gelding (Nijinski x Precious by Belisar) that was bred by J. Pannenborg. She has had the gelding for almost two years and was immediately attracted to his personality. "He slobbered all over my dad the first time I saw him and then he gave him that look that said 'hello!' 'Uppa' is a complete goofball and troublemaker."
Lahey is a senior at Centennial High School with a 4.375 GPA. She also finds time to help out her local Pony Club. "I've had the opportunity to perform my freestyle for them and I was invited to be a volunteer dressage coach at a rally. They've been very supportive of the young rider program." Lahey also has volunteered at Ride for Joy, a local therapeutic riding group.
Applications for the 2012 Willy Arts Grant can be found at http://kwpn-na.org/display/files/WillyArtsYoungRiderGrant.pdf. Applicants must be current KWPN-NA members ages 16-21 and competing on a KWPN (Dutch) horse of which they are the owner or lessee of record with the KWPN-NA. In addition to success in the competition arena, the KWPN-NA considers academic success, community involvement and references in making decisions.
Willy Arts, Chairman of the KWPN-NA, explained, "Young riders are the future of all equestrian sports. We are very thankful to Little Creek Farm that we are able to offer these grants that support the next generation of riders, trainers and owners."