2011 Spanish Young Horse Championships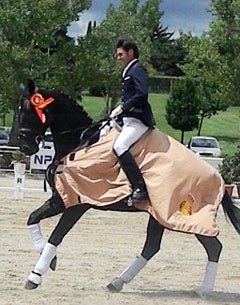 Firmamento, Manchego and Alcaide were the grand champions at the 2011 Spanish Young Horse Championships held in Ameria, Spain, on 28 - 30 September 2011. A huge field of youngsters showed up for the national championships. The gold medal winning horses were all supreme in their classes but the battle for silver and bronze proved to be a tough one for the others.
In the 4-year old division 53 horses competed but it was Juan Matute's Hanoverian Firmanento (by Don Crusador) which reigned supreme. Under Juan Francisco Fernandez Munoz the black won both rounds with 77.800 and 81.600 to total 279.900 points. He pushed Alberto Garcia Martin on the PRE Isleno FS (by Ermitano III) to the silver medal position. The chestnut Andalusian scored 71.600 and 76.000. Victoriano Vano Ribero and his own chestnut PRE Vamprio de Pereto (by Vafe III) were third. He finished 9th in the first round with 70.000 and moved all the way up to second place in the second round with 77.000 to total 159.000 and rank third overal.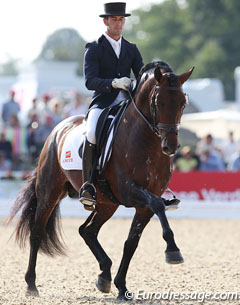 Angel Dorado Martinez and his gorgeous black Andalusian stallion Manchego ARB (by Gumiel x Ermitaño III) left no doubt about it that they were the strongest 5-year old pair of the season. After having made an impression at the World Young Horse Championships in Verden, Manchego continued his success tour in Almeria with three wins in the 5-year old championship. Owned by Yeguada San Antonio, the super moving black scored 73.800, 82.600 and 82.800 to total 361.300%. Alfonso Parra Rubio and his own Dutch warmblood Bently (by Scandic) earned the silver with three solid rounds (73.200,  80.600, 79.000) to finish on 352.100. Francisco Gil Ortiz and Firenze, a PRE by Airoso XXVI, collected bronze after placing 10th (68.400%) and fourth twice (76.200, 73.200).
In the 6-year old division Claudio Castilla Ruiz found some consolation after losing his Grand Prix team horse Jade de Mv one week ago. Aboard his Lusitano Alcaide (by Lobito x Novilheiro) he won the 6-year old Championship with three winning scores of  83.400%, 73.000% and 86.200%. Their high scores (9 for walk and canter, 7.5 for trot, 8.8 for submission and general impression) totalled to 365.300 points and gave them the victory but they also led to much discussions as many spectators considered the marks for Alceide's gaits and submission heavily inflated.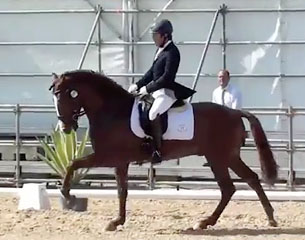 Coming closest to the winning pair's marks were Angel Dorado Martinez on the PRE Leviton ARB (by Panemeno IV). He achieved 80.600% (2nd), 69.200% (5th), and 79.400% (2nd). The Mallorcan based Antonio Segui Sintes and the Hanoverian bred Armstrong D-Alo (by Alabaster) also produced oscillating scores on the score board: 71.400% (9th), 71.400% (2nd) and 77.600% (4th) to finish in bronze medal position with 333.700% total.
Results 2011 Spanish Young Horse Championships
4-year olds (top 10 only)

1. Juan Francisco Fernandez - Firmanento (Hann, by Don Crusador) - 77.800 - 81.600 --- 279.900
2. Alberto Garcia Martin - Isleno FS (PRE, by Ermitano III) - 71.600 - 76.000 --- 259.400
3. Victoriano Vano Ribero - Vampiro de Pereto (PRE, by Cafe III) - 70.000 - 77.000 --- 259.000
4. Juan Antonio Vazquez Rico - Wall Street JV (Hann, by Wie Weltmeyer) - 74.400 - 72.000 --- 255.600
5. Samuel Delgado Mateos - Spirit JM (CDE, by Ulcalero C) - 73.600 - 72.000 --- 254.400
6. Ana Fuentes Marin - Duque RJ (PRE, by Libertado III) - 72.000 - 73.000 ---  254.000
7. Jose Antonio Torres Diaz - Notable XIII (Hann, by ?) - 71.200 - 73.000 --- 252.800
8. Antonio Cid - Sirano de Verden (Hann, by ?) - 70.000 - 73.600 --- 252.200
9. Jose Daniel Martin Dockx - Vaquero HGF (PRE, by Cuatero IV) - 69.000 - 72.600 --- 248.700
10. Laureano Martinez Molina - Coco Cobanas (KWPN, by Santano) - 70.200 - 71.200 --- 247.700
5-year olds
1. Angel Dorado Martinez - Manchego (PRE, by Gumiel) - 73.800 - 82.600 - 81.800 --- 361.300
2. Alfonso Parra Rubio - Bently (KWPN, by Scandic) - 73.200 - 80.600 - 79.000 --- 352.100
3. Francisco Gil Ortiz - Firenze (PRE, by Airoso XXVI) - 68.400 - 76.200 - 73.200 --- 329.100
4. Yvonne Schabbel - Stradivari (Hann, by Samarant) - 71.000 - 76.200 - 71.400 --- 328.100
5. Juan Antonio Vazquez Rico - Havanna (Hann, by His Highness) - 68.600 - 73.200 - 72.400 --- 323.200
6. Ruben Arrabe Sanchez - Goloso D (PRE, by Empaque) - 68.000 - 68.000 - 75.000 - 320.000
7. Juan Antonio Perez Pulido - Diego (Hann, by ?) - 65.400 - 77.200 - 69.200 --- 319.600
8. Carolina Serna Alvaro - Sea Dragon (Old, by Sandro Hit) - 70.200 - 70.800 - 71.200 --- 318.800
9. Sebastian Garcia Candon - Duke (Hann, by Don Bosco) - 72.200 - 72.400 - 68.600 --- 318.000
10. Juan Francisco Fernandez Munoz - Ferga Belha (Hann, by Buddenbrock) - 71.600 - 68.400 - 71.000 --- 316.200
6-year olds
1. Claudio Castilla Ruiz - Alceide (LUS, by Lobito) - 83.400 - 73.000 - 86.200 --- 365.300
2. Angel Dorado Martinez - Leviton ARB (PRE, by Panemeno IV) - 80.600 - 69.200 - 79.400 --- 343.200
3. Antonio Segui Sintes - Armstrong D-Alo (Hann, by Alabaster) - 71.400 - 71.400 - 77.600 --- 333.700
4. Tomas Francisco Caudet Prats - Andes (KWPN, by Tango) -74.400 - 71.200 - 76.000 --- 333.2000
5. Miguel Ruiz Olmos - Roscatelli (Hann, by Rosario) - 72.200 - 68.800 - 78.000 --- 331.4000
6. Marquz Begona De Ingunza - Daimler (BaWu, by Denaro) - 70.000 - 71.000 - 75.000 --- 326.500
7. Maria Ruiz Fernando - Welserin (Hann, by Welser) - 74.000 - 68.200 - 73.800 --- 323.900
8. Isidro Maldonado Espinosa - Marismeno (PRE, by Garanon III) - 67.200 - 69.000 - 74.200 --- 319.100
9. Enrique Serrano Moro - Ali Baba (PRE? by Clasico Mac) - 72.600 - 67.200 - 69.00 --- 311.400
10. Juan de Dioz Ramirez Garcia - Julepe Erre (PRE, by Decano Erre) - 68.600 - 66.200 - 71.200 --- 310.300
Related Links
Bently, Artouche, Delmonte Win 2010 Spanish Young Horse Championships
Zanzibar, Donna Clara and Finja Win 2008 Spanish Young Horse Championships