2011 Dressage at Devon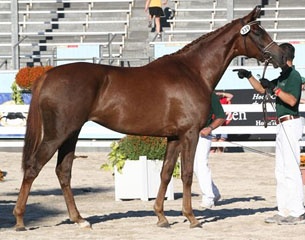 The world-famous Breed Division at Dressage at Devon continued today. With some of the most stunning horses from around the world competing, it was Rheporter, Dazzle, Rabiola and Doctor Wendell MF who treated spectators to the final feast for the eyes, floating around the Dixon Oval as they competed for top honors in the Grand Championship.
It was déjà vu when Rabiola won the Four-Year-Old and Older Broodmare's class. The mare by Metall out of Fabiola (by Zadok) took home the same honor in 2010.
The Born in the U.S.A. Breeders Awards were started in 2003 to recognize and reward the achievements of American sport horse breeders. Horses conceived and foaled in the U.S. are eligible for the fourteen different categories. The High Point winner for the Born in the U.S.A. was the Hanoverian bred Sternlicht GGF (by Soliman de Hus x Rascalino) owned by Rachel Ehrlich, followed by Reserve Champion Duet MF (by Don Principe x Rotspon), owned by Maryanna Haymon.
Radiance HVH, a Hanoverian by Rotspon out of EM Whitney and bred and owned by High Valley Hanovarians in Suches, Georgia, claimed the  Mare Championship. Earlier in the day she had won the USEF Materiale for 4 and 5 year old Mares and the 4 and 5 year old Maiden and Yeld Mare class. Innverness (by Parabol out of Parelez) who was bred by Hilltop Farm and owned by Ursula Ferrier, was the winner of the Stallions 4 Years and Older.
 Felix and De Feiner Star Battle it Out in the Materiale Classes
Felix, a 4-year old Oldenburg by Sir Sinclair and ridden by Michael Bragdell won the Materiale Championship after coming second in the USEF Materiale 4 and 5 year old Stallions and Geldings class. Reserve Champion went to De Feiner Star. De Feiner Star (by De Laurentis out of Feiner Dance), a flashy 5-year-old chestnut Oldenburg stallion, rose to the top in a couple of classes early in the day. He captured the blue ribbon for the 4-Year Old and Older Stallions Under Saddle and pulled ahead of Felix in the USEF Materiale 4 and 5 Year-Old Stallions and Geldings classes.
De Feiner Star was well presented by rider Chris Schruefer who says "De Feiner Star is 'Mr. Easy Going.' He's got personality plus and his rideability is a 10." He was bred in Delaware by Meg Sherman and is owned by Greg Strait and Melinda Brown from California. They selected him as a weanling after seeing his photograph on the Internet and he now lives at Schruefer's farm in New Jersey.
Rheporter Named Grand Champion of the 2011 Devon Breed Show
In the afternoon Mo Swanson of Rolling Stone Farm in Slatington, PA, was on top of the world as she saw her mare, EM Rheporter (by Royal Prince x Weltmeyer), earn first place in both the Mare Championship and the Mature Horse Championship. Rheporter overcame stiff competition from Rabiola, who won both these classes in 2010, and was awarded Reserve Champion. EM Rheporter is third generation from Swanson's breeding program and is by Royal Prince from Hilltop Farm in Maryland and out of EM Whispre.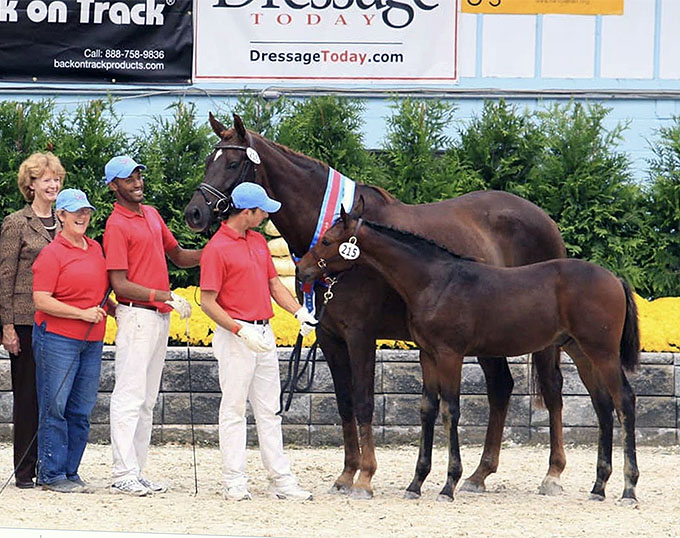 Swanson had originally planned to show only her foal Shilouette (by Shakespeare x Furst Heinrich x Velten Third), but late one night, relaxing with a glass of wine and pondering her show entry she decided that since she was already bringing Shilhouette and her dam, Fhlora, she may as well bring additional mares and foals. EM Rheporter was one of them.
"I know she's really nice, but this was a wonderful surprise. "Although she's placid and quiet, she loves to move. She's strictly a broodmare now but she was wonderful to ride."
Later, as the night lights illuminated the Dixon Oval for the Grand Championship, it was clear that another surprise was in store for Swanson. EM Rheporter wowed the judges and claimed the Grand Championship.
"I'm so happy," said Swanson "I'm speechless for the first time in my life." Dazzle, a 3-year old KWPN mar by Jazz from Gretna, VA, who collected multiple ribbons during the Breed Division in 2010 and 2011, brought home the Reserve Champion honor.
Tomorrow's action-packed Breed Division classes include a medley of individual breed classes including Arabians, Appaloosas, Cleveland Bays, Connemaras, Dutch Warmbloods, Danish Warmbloods, Fresians, Georgian Grandes, Haflingers, Hanoverians, Iberians, Lipizzans, Morgans, Spanish Mustangs, Oldenburgs, Rheinland Pfalz-Saars, Trakehners, and Westfalens.
The Performance Division begins at 4 p.m. Thursday with the young horse tests. Dressage at Devon runs through Sunday, October 2.
Check out Devon's Wednesday's Breed Show Scores
Related Links
Cha Ching Named Foal Champion at 2011 Devon Breed Show
Rabiola Renews Grand Champion's Title at 2010 Devon Breed Show