2011 Pan American Games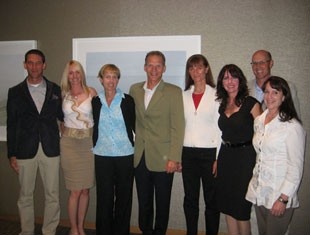 The Canadian Dressage Team is preparing for the Pan American Games, being held in Guadalajara Mexico, October 16 to 19. Team members Diane Creech, Tom Dvorak, Tina Irwin, Crystal Kroetch and first alternate Roberta Byng-Morris will be attending training camp in Gardiner, New York, September 25 to October 11.
Canada is fielding a very strong team this year, with Diane Creech and Tom Dvorak members of the 2007 Pan American Dressage Team that won the team silver medal in Rio de Janiero. Creech, 48, of Caistor Centre, ON will be riding Robbie W. The 8-year-old grey Oldenburg gelding, (by Rubin Royal), is owned by Creech's long time sponsor, Douglas Leatherdale of Leatherdale Farms.
Dvorak, 46, of Hillsburgh, ON will be riding Viva's Salieri W, a 10-year-old chestnut Hanoverian stallion (by Viva Voltaire) owned by Augustin Walch and Christine Eppinger. Dvorak also qualified Corrigan, an 11-year-old Westphalian gelding sired by Cordobes I, owned by Karen Thompson-Harry. Should Viva's Salieri W be unable to compete, Dvorak is able to ride Corrigan in the competition instead.
Newcomers to the team, but not to Canadian dressage, are Tina Irwin, 30, of Stouffville, ON and Crystal Kroetch, 54, of Calgary, AB. Irwin is paired with Winston, Mary Ellen Horgan's 14-year-old bay Dutch Warmblood gelding by Whinny Jackson. Kroetch will ride Lymrix, her 10-year-old bay Hanoverian gelding sired by Loerke. The team alternate, Byng-Morris, 48, of Godmanchester, QC, and Reiki Tyme, a 12-year-old Hanoverian gelding by Royal Diamond, will also attend the training camp. This will give Canada a full team should another horse/rider combination be unable to compete.
Team selection was decided in August, following a rigorous qualification process that culminated in back-to-back trials. During the week of September 15, all horses underwent a final veterinary inspection by Team Veterinarian Dr. Alan Manning, to ensure their fitness and readiness to compete at the Games.
Things had been a little tense for Creech, as Robbie W suffered a minor injury at the last trial and they were unable to finish the competition. However, the gelding passed the veterinary inspection and the pair was named to the team.
"We are particularly happy that Diane Creech and Robbie W will be able to attend training camp," said Liz Steacie. "This lovely, talented horse, so ably ridden by Diane, will be a huge asset to the team. I have great confidence that Diane and Robbie W, and all the other members of the Team will perform up to expectations both in training camp and at the Games."
Training camp will be held at Horses and Hounds Stable, approximately 30 minutes from the Newburgh airport. This 100-acre facility in the Hudson River Valley is owned by Diana Maglio, features excellent footing in indoor and outdoor rings, as well as turnout and hacking. The team will train during the day, and will not be affected by the facility's evening lesson program.
Riders will be allowed to bring their own coaches to the training camp and will work in collaboration with Technical Leader, Markus Gribbe. Chef d'équipe Gina Smith will also attend the two-week session.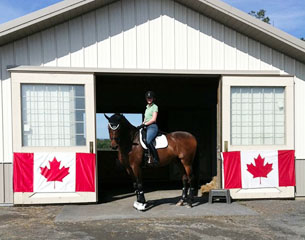 Team member Tina Irwin will be bringing her family along, her husband Jaimey Irwin is her coach, and part of her support system that includes a sports psychologist, sponsors, and clients. Recent family addition Gavin will also make the trip. Irwin is "looking forward to training camp in NY …(it) will be a great opportunity to get to know each other and our horses better outside of the competition arena. We have been individuals competing against one another up until this point, so now we have to learn to be a team!"
Dvorak emphasized the importance of a support network. "I have amazing support from my best friend and wife Ellen, and my daughter Alex. The owners of the horses have been great support…without them I would not be in this position. The staff of Equine Canada (Christine and Peggy), and the others involved with sending a team to the Pan Am Games — chef d'équipe Gina Smith, coach Markus, Team Vet Alan Manning and CET Team Leader Kerri McGregor — have all been putting in a lot to organize us."
Team alternate Roberta Byng-Morris is also looking forward to the camp. "I am really looking forward to having two weeks of consistent training. I feel very grateful to be able to be part of such an amazing experience with such great riders."
The first step to team building has already taken place. Winston's owners Mary Ellen and Michael Horgan hosted a team dinner at Toronto's Granite Club on September 10. It was a great opportunity for the riders, owners, grooms and support staff to get to know each other better in a non-competitive environment.
The team will travel via air to Mexico with the United States Dressage Team on October 11. The competition is particularly important for Canada, as a medal here is required to qualify a team for the 2012 London Olympics.
Related Link
Eurodressage Coverage of the 2011 Pan Am Games