2011 U.S. Young Dressage Horse Championship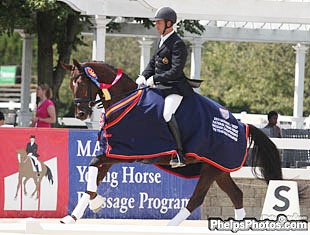 As many people on the East Coast braced for Hurricane Irene, those at the Lamplight Equestrian Center enjoyed another day of sunshine and beautiful temperatures. Champions were crowned in the 2011 U.S. Young Horse Dressage Championships in the 4- and 5-year-old divisions.
The 5-year-old division of the U.S. Young Horse Dressage Championship was up for grabs all the way through the class. Hampton Meadows, LLC's Donna Tella (by Don Picardi out of Gesa by Glorieux) was the final horse of the division and from the first centerline made it clear she would not be beaten.
The Oldenburg mare ridden by Belgian national Werner Van Den Brande executed a polished performance that oozed charm and personality. For Saturday's Final Test the pair earned an 8.68 after scoring high marks for their canter (8.9) and 9.0 for both the trot and general impression mark. Combined with the Preliminary score, which counted for 40% of the overall, Donna Tella won the U.S. Young Horse Dressage Championship 5-year-old division on an 8.648.
"In Thursday's first test she was lovely in the ring," Van Den Brande said. "But she was a little bit better today. She was more awake and relaxed."
Winning today's championship was not only special for Van Den Brande but also for everyone at his Loxahatchee, FL, base. "Credit also goes to the team at home. This is a dream come true."
The winner of Thursday's Preliminary Test, Caroline Roffman and San City (by San Remo out of Bounty by Bolero), had to settle for Reserve Champion honors in the division after placing third in the Final Test.
The Hanoverian stallion once again collected high marks for their trot and canter but a few bobbles kept them from equaling their first mark.
Roffman (Wellington, FL) was still very pleased with San City, a horse she has only been riding a few months, and his performance throughout the weekend. She was equally thrilled with the way he has developed over the time of their short partnership. "The first day he was the best he's ever been. I am really proud because he came here as a 4-year-old and was 14th. He has just showed how much he's grown-up and matured but also shown his rideability."
San City, who also is a breeding stallion, will return to owner Linda Crabtree and spend the rest of the season eventing with Crabtree's daughter Katie Wooten-Bryant.
Second place in the Final Test went to Lauren Chumley and Alice Tarjan's Somer Hit (Sandro Hit - Rhussia by Rotspon) who scored an 8.48 for their effort. Saturday's score combined with their 8.3 from the Preliminary Test meant they finished these Championships in third place.
Chumley was able to improve her trot work today and still demonstrated quality canter and walk gaits for which they scored 8.8 and 9.0, respectively. Despite having only ridden the Hanoverian stallion for three months, Chumley was able to pilot Somer Hit to the highest U.S.- bred horse award.
Chumley was thrilled with her horse's effort this weekend but looks forward to training the exciting prospect each day. "He is just really fun, a high quality horse and great to work with."
The judging panel of Janet Foy, Gary Rockwell and Anne Gribbons enjoyed the entire class and were extremely pleased with the level of talent and training displayed.
Foy commented, "It so much fun to judge this; the quality of horses and riders and training is so high."
Furst Fiorano Takes 4-year old National Title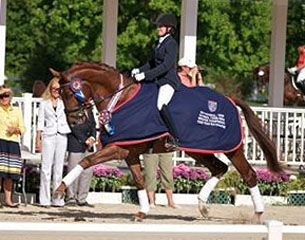 Saturday's Championship competition wrapped up with the U.S. Young Horse Dressage Championship 4-year-old division. All 15 horses that trotted into Ring 2 displayed an immense amount talent and potential for the future. However, it was Alyssa Pitts riding Melissa Mulchahey's Furst Fiorano claimed top honors with a classy performance.
The Westfalian gelding (by Furst Piccolo out of Donna Lorenza by Donnerbube) demonstrated great cadence to score 8.5, with the highlight being the powerful trot work, which earned a 9.2. The judging panel - again composed of Foy, Rockwell and Gribbons - awarded Furst Fiorano an 8.8 for general impression.
"Today's ride went well; he was very good in the trot but got tired in the canter," said Pitts. "He's the best horse I've ever ridden."
The Snohomish, WA, resident works with veteran U.S. rider and Alltech/FEI World Equestrian Games Bronze medalist Steffen Peters and looks forward to the future with the immensely talent gelding.
"I hope to be back here next year doing the 5-year-olds," Pitts said.
Finishing a close second was George Williams (Delaware, OH) with the talent Horizon (by Hotline out of Revue by Don Schufro) on a score of 8.48. Elizabeth Juliano's Oldenburg mare showed great elasticity in the trot and phenomenal reach in her walk, as well as scoring an 8.5 for her canter. Her very willing and trainable demeanor led to a score of 9.0 for a general impression mark from the judging panel.
Williams knew from the first time he rode her that he had a star for the future. "With Horizon, the first time I sat on her I had a real rapport. She is a dream to ride; very smooth and work comes easily to her."
Third-place honors went to Oldenburg, Germany, native Lientje Schueler and Regalo (Rosario - Dandiell by Nandino) who scored an 8.3 on the strength of a fabulous walk gait. Schueler, who has been based with Shannon and Steffen Peters in San Diego, CA, for six years, thinks the world of Pinky Robert's Oldenburg gelding.
"He's a very fun horse, he gives it his all all the time." Schueler was extremely impressed with Regalo's perseverance today. "He was tired today but kept trying; his heart was the high point today."
The highest U.S.- bred horse award in the 4-year-old division went to Casanova (Lauwersmeer Laka - Abolien by Indiaan) who is owned and ridden by Jocelyn Hamann.
Judging panel member Anne Gribbons was ecstatic about the quality of horses seen in the 2011 the Markel/USEF National Young Horse Dressage Championship and has great faith in the program, which is now in its 10th year.
"It's been amazing, between the 6-year-olds yesterday and the 4 and 5-year-olds today, we did not have to cover up anything," Gribbons said. "It's been so exciting, fabulous. Stick with it long enough and it works out."
Wagner Takes the Lead in the 6-year old Division
In the American Young Horse Dressage Championship 6-year-old division the standard was set earlier. Members of the 2005 foal crop demonstrated fluid gaits and a strong foundation in advanced movements such as half-pass and flying changes.
Emily Wagner (La Cygne, KS) and her own American-bred Warmblood stallion Wakeup performed a strong and powerful test to score an 8.88. The judging panel of Janet Foy, Gary Rockwell and Anne Gribbons rewarded Wakeup (by Wagnis out of Maiden Montreal by Macho) for a mature performance demonstrating phenomenal cadence in the trot work and a fluid walk tour. The pair made their 10-hour drive from Kansas well worth the trip scoring a 9.2 for their trot, an 8.8 in the walk, 8.5 and 8.9 for the canter and submission respectively. Their general impression score, a 9.0, was the highest of the day.
For Wagner, today's performance was especially meaningful as Wakeup is a member of the second generation of horses she has competed successfully. "His dad was my Young Rider Horse. It's so cool because I know his whole family, his brothers and half-brothers," she said.
-- USEF Press release
Photo © Mary Phelps - www.phelpsphotos.com
Complete coverage of the 2011 U.S. Young Horse Championships on Dressagedaily.com
Related Links
Scores 2011 U.S. Young Horse Championships
San City, Wakeup and Pikko Del Cerro HU Set the Pace at 2011 U.S. Young Horse Championships