Hanoverian Breeding News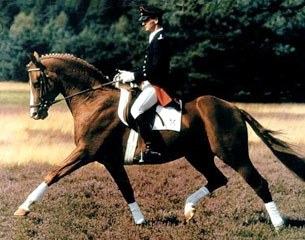 The 1989 born chestnut Hanoverian stallion Wonderful has passed away on 17 August 2011. After a short breeding career at Celle State Stud, Wonderful moved to the United States where he was carefully managed as a dressage and breeding stallion by his American owner.
Wonderful was bred by Heinrich Eihlers and was owned by Violet Jen from Wonderful Sport Horses in Sunnyvale, CA, U.S.A. He was by Weltmeyer out of State Premium mare Bonny (by Bolero x Argus x Duellant).
"Wonderful patiently taught me how to be a horse guardian," Violet Jen commented on her stallion's passing. "When I just thought I had a small success, he gave me the most difficult lesson. Not only his beauty, but also his big gentle heart and noble courage will be remembered by many who had the chance to meet him."
Wonderful was licensed in 1991 and performance test in Adelheidsdorf in 1992. He scored an index of 116,17 points with a dressage score of 122.54 points.  Wonderful was purchased in 1995 for sport and imported to the US in 1997.
The German Equestrian Federation (FN) ranked Wonderful as the number one young sire in 2000 based on the FN competition statistics achieved by his 44 competition offspring. He also sired six states premium mares, two German mare show Grand Champions, one U.S. Elite Mare and six Verden auction horses. All of these records were accomplished with a crop of 99 foals that he sired before he was purchased for sport. Wonderful achieved scores up to 85% at M-Level dressage, and had learned all FEI movements by the age of eight.
At the 1998 Hanoverian autumn Elite auction in Verden the 3-year old Winwood (by Wonderful x  Amarillo) was selected and imported by Pan Am and World Equestrian Game Gold Medallist Debbie McDonald. This youngster became the most successful Wonderful offspring. Winwood represented the US at the 2000 World Young Horse Championshipsorld Breeding Championship in Arhneim, The Nethermands, with owner/trainer Heather Bender. In 2003, the 8-year old Winwood started his winning way at Prix St. George and Intermediaire 1.  In 2004 he was 4th to qualify for the American Intermediaire I Championship heldl in San Juan Capistrano
Wonderful was also approved by the ISR/Oldenburg N.A., GOV and Westfalen registries.
Related Links
Suzanne Davies Excels with Keystone Dimaggio at 2000 World Young Horse Championships
Scores: 2000 World Young Horse Championships