KWPN Breeding News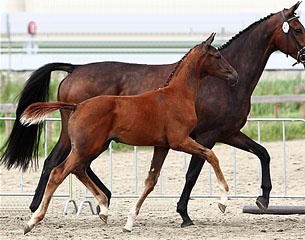 Gregwaard was proclaimed KWPN Foal Champion of the year 2011 at the 2011 KWPN Paardendagen in Ermelo, The Netherlands, on 12 August 2011. The Florencio x Jazz colt beat Emmy de Jeu's filly Giulilanta (by Jazz x Flemmingh) to the finish.
Fifteen foals were selected for the champion's ring after many rounds of selection which started in the early morning. Gregwaard, which is bred by Luuk van Rijn from Nieuwland, The Netherlands, out of his mare Wintana (Jazz x Flemmingh x Vincent), claimed the title in a tight duel. The stallion prospect has already partly sold to two stallion owners, Nico Witte and De Dalhoeve.
Petro Trommelen, president of the ground jury, praised the colt as a "very well developed foal which moves correctly with a good top line. He stands out with his lightfootedness and his uphill, ground covering canter."
Breeder van Rijn was ecstatis to have his colt named champion. "This is so fantastic to experience. This is what you do it for," he said. "I had all confidence in Gregwaard at home, but of course you have to wait and see. You don't know how the competition is performing. This morning in the pre-selection he was already going very well, but he's always like that. Moving well is an automatism for him."
Emmy de Jue's chestnut filly Giulilanta stood out and became reserve champion. The chestnut is bred by A. Vogelaar and J. Knol from Surhuisterveen, The Netherlands. "Giulilanta has a beautiful front and trots with much ground cover and has a strong hindleg usage. In canter she stays a bit to horizontally," said Tommelen.
Mr Tijssen's colt G-Star (by Apache x Jetset D) finished third."'G-Star is a typey, long lines and harmoniously built foal," Tommelen explained.
Photo courtesy Waardhoeve
Results 2011 KWPN Foal Champion's Ring
1. Gregwaard (Florencio x Jazz) - LSM van Rijn
2. Giulilanta (Jazz x Flemmingh) - Vogelaar and Knol
3. G-Star (Apache x Jetset D) - M. Tijssen
4. Gala (Apache x Rousseau) - A. Verdellen
5. Goya (Uphill x Ferro) - R. van Heuvelen and H. Bernoski
6. Gracy (Uphill x Jazz) - F. Nobach
7. Garonette (Apache x Jetset D) - M. Konijn-Egas
8. Gemmo (Andretti x Flemmingh) - A. Dikkema-Sants
9. Gucci (Apache x Jazz) - J. van Deurzen
10. Galaxy Win T (Apache x Jazz) - A Toonen Arts
11. Galante (Charmeur x Negro) - P. Wijlaars
12. Giovanni (Tango x Krack C) - J. Schipper
13. Gerbera (Negro x Krack C) - F. van de Pol
14. Germiek (Florencio x Tuschinksi) - A. van Erp
15. Google (Bordeaux x Farrington) - J. Elzinga-Sloot
Complete results here.
Related Link
Ferrari Proclaimed 2010 KWPN Foal of the Year