Oldenburg Breeding News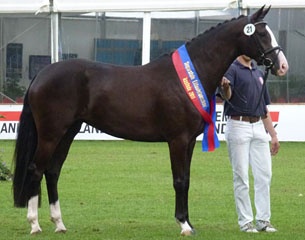 The 3-year old Fire and Ice was named the Oldenburg mare champion of the 2011 Brilliant Ring at the Oldenburg Elite Mare Championship held at the historic Royal Stud of the Graf Anton von Oldenburg in Rastede, Germany on 20 - 24 July 2011.
Fire and Ice was sired by De Niro and is out of St.Pr.St. Free Life (by Lord Liberty x Riesling). She is bred by Dieter Scherwitzki and owned by Rudolf Flass, who purchased her as a Foal at the 2008 Oldenburg foal auction. She earned excellent scores of 8.5 on her canter and 8.0 on her trot in her Mare Performance Test as well as a 9.0 for her walk resulting in an
8.10 overall score.
Dr. Gisa Loewe's Chere Amie (by San Amour x Furst Heinrich) became the reserve champion. Heinrich Fugel's Escada (by San Amour x Dream of Love) placed third. It was a San Amour extravaganza in Rastede as the fourth ranked mare, Herzdame von der Heide, is by San Amour x K2.
Contessa D (by Canturo x Corrado I x Landgraf I), who had received an outstanding 9.5 on her free jumping in her earlier Mare Performance Test, was the champion of the show jumping mare.
Out of hundreds of 3 and 4 year old mares that are inspected by the Oldenburg Verband in Germany every year, only a select group are invited to go on to the Mare Performance Test. Out of those mares, around 100 are awarded the States Premium Candidate title, and then out of these States Premium Candidates, approximately 60 are invited to the Mare Show in Rastede. These figures can obviously vary from year to year based on the quality of the mares presented, and this year 55 dressage mares and 17 jumper mares were invited. Once in Rastede, the mares are presented in hand on the triangle to the judging committee. For the jumper mares, the top 6 were invited into the final walk ring, they were ranked, and the champion was named. For the dressage mares, 16 were invited in to what is called the "Brilliant Ring" where each mare is trotted in hand into the main stadium of the grounds, and then they were all asked to walk in a large circle around the judges who then ranked them, and named the champion.
The Evaluation Committee for the dressage mares included the Grand Prix rider and trainer, Wolfram Wittig. He gave the final comments about the champion mare, Fire and Ice: "When you come from the sport world, you develop a critical eye, especially for the walk. We saw some very good horses with a phenomenal champion in all three gaits. She was able to convince everyone with her excellent walk. Fire and Ice has wonderful conformation, is a very nice type, and showed herself off with a lot of presence and charm."
Read an extensive report on Rastede at the American Oldenburg Society Website
Results - 2011 Brilliant Ring

1. Fire and Ice (by De Niro x Lord Liberty) - Owner: Rudolf Flass - Breeder: Dieter Scherwitzki
2. Chere Amie (by San Amour x Furst Heinrich) - Owner/Breeder: Gisa Loewe
3. Escada (by San Amour x Dream of Love) - Owner/Breeder: Heinrich Fugel
4. Herzdame von der Heide (by San Amour x K2) - Owner: Goetz Rueter - Breeder: Manfred Rueter
5. Pandora (by Sir Donnerhall x Lavauzella AA) - Owner:Christine Arns Krogmann - Breeder: Karin & Klaas Lindena
6. Traumschnuppe (by Diamond Hit x Flemmingh) - Owner/Breeder: Andrea Speckmann
7. Delanos's Dorothy (by Sir Donnerhall x Don Gregory) - Owner/Breeder: Wempe
8. Hallihallo (by Ducati x Rohdiamant) - Owner: Gabriele Eder - Breeder: Susanne Wulfsberg
9. Heiderose (by San Amour x De Niro) - Owner: Elisabeth Munstermann - Breeder: Johanne Gerdes
10. Donna Bella (by Farewell III x Welt Hit II) - Owner/Breeder: Lambertus Schneider
11. Rihanna (by Don Schufro x Rubicon xx) - Owner/Breeder: Joachim Neubert
12. Elfenrubina (by Rubin Corte x Sevillano xx) - Owner/Breeder: Ludger Hilgefort
13. Fiderhit (by Fidertanz x Sandro Hit) - Owner: Beckmann/Erben - Breeder: Josef Gramann
14. Ascara (by Sandro Hit x Donatelli)  - Owner: Eva Schaefer - Breeder: Kyra Werdin
15. Donna Diana (by Dimaggio x Oldtimer xx) - Owner/Breeder: Franz Albers
16. Kadisha (by Don Romantic x Depardieu) - Owner/Breeder: Bernd Lampe
Related Links
Fifty Fifty, Champion of the 2010 Oldenburg Elite Mare Show in Rastede
Carlotta Wins 2009 Oldenburg Elite Mare Show in Rastede
Weihegold Wins 2008 Oldenburg Elite Mare Show in Rastede
Rebelle Wins 2007 Oldenburg Elite Mare Show in Rastede 
Silberaster Wins 2006 Oldenburg Elite Mare Show in Rastede 
Loxana, Dancing Diamond at 2005 Oldenburg Mare Show in Rastede 
Love Story V, Champion of the 2004 Oldenburg Elite Mare Show in Rastede 
Fabina, Rastede Oldenburg Champion 2003 
1999 Oldenburger Champion Mare Lady Madonna sold to the USA 
Donna Doria, the 2000 Oldenburg Champion Mare at Radstede