Oldenburg Breeding News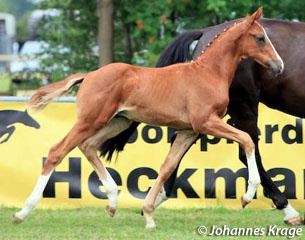 As the German foal selection show circuit is in full swing, six events were scheduled for the weekend of 23 - 26 June 2011. Sandro Hit, Ampere, Floriscount and Licotus sired the champion colts in Westerwald/Taunus, Isterberg and Werdel, whereas Stoiber, Instertanz and Quaterback were the sires of the champion fillies.
On 23 June 2011 the foal selection show organized by breeders' group Lahn-Dill in Westerwald-Taunus near Niederzeuzheim, Germany, produced four foals that were selected for the German Foal Championships in Lienen. In the colts' category there were two winners. Gisela Strecker's Sandro Hit x Frisbee colt tied for first place with Bianca and Jorg Opper's Ampere x Fidertanz colt. The winning filly was a Stoiber x Damon Hill offspring, bred by Sandra Neff.
Two days later on 25 June a big selection show took place in Isterberg, organized by the breeders' group Grafschaft Bentheim - Emsland. They split up the colts' category in dressage and show jumping. Nicole Wanning's amazing dressage bred colt Flatrate (by Floriscount x Metternich) took highest honours receiving 9s and 10s from the judges for gaits and conformation. The chestnut colt was purchased by Dr. Kerstin Klieber soon after he was born. Hermann Bengfort's Apache x Furst Piccolo colt ranked second. In the filly category Gestut Letter Berg's Instertanz x Laureus mare bested the field and left a Feuerspiek x Latimer filly behind her.
On the same day, the foal selection show held at Gestut Bon Homme in Werder, proved that the "older" stallion are still in fashion and scoring well. Two colts were selected for Lienen and the winner was Paul Paries' Licotus x Quando Quando. Maik Katzke's Damon Hil x Quando Quando was second. The filly division was dominated by Quaterback offspring taking first and second position. The winning filly was one out of a Donnerhall dam (bred by Silke Pelzer). The runner up is out of a Lauries Crusador xx broodmare, bred by Norbert Schmidt.
Photo © Johannes Krage - courtesy Wanning
Foal Selection Show - Westerwald/Taunus 2011
Colts
1. Sandro Hit x Frisbee - Owner: Gisela Strecker, Elz
1. Ampere x Fidertanz - Owner: ZG Bianca and Jörg Opper, Seeheim-Jugenheim
Fillies
1. Stoiber x Damon Hill - Owner: Sandra Neff, Frankenberg
2. Casino Royale x Davignon - Owner: Gerhard Kieffer, Ruppichterotl
Foal Selection Show Bentheim - Emsland
Colts
1. Floriscount x Metternich - Breeder: Nicole Wanning, Schüttorf
2. Apache x Fürst Piccolo - Breeder: Hermann Bengfort, Vreden
3. Instertanz V x Laomedon - Breeder: Raimund Vorwerk, Lohne
4. Floriscount x Sandro Hit - Breeder: Frank Moormann, Wettrup
Fillies
1. Instertanz x Laureus - Breeder: Gestüt Letter Berg, Coesfeld
2. Feuerspiel x  Latimer - Breeder: Ludwig Kottig, Gronau
3. Silbermond x Fidermark - Breeder: Ten Heuvel de Vries, NL Fluitenberg
4. Christ x  Brentano II - Breeder: Josef Franke, Emsbüren
Foal Selection Show Gestüt Bon Homme
Colts
1. Licotus x Quando Quando - Breeder: Paul Paries, Zehdenick OT Klein Mutz
2. Damon Hill x Quando Quando - Breeder: Maik Katzke, Badingen
Fillies
1. Quaterback x  Donnerhall - Breeder: Silke Pelzer, Beelitz
2. Quaterback x Lauries Crusador xx - Breeder: Norbert Schmidt, Wittstock
3. Riccione x Sunny Boy - Breeder: Toni Ciszek, Neuwegersleben
Related Links
Furstenball and Vitalis Reign as Sires at Foal Selection Shows in Moritzburg and Warendorf
Floriscount and Furstenball Stand Out as Sires at 2011 German Foal Selection Shows
Sungold and Floriscount Produce Winners at 2011 Hagen Foal Selection Show
Romanov and Diamond Hit Produce Winners at 2011 Lodbergen Foal Selection Show