2011 CDN Herentals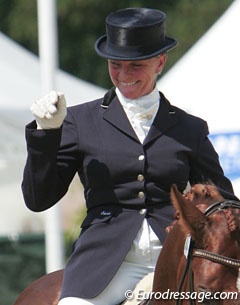 There is no stopping the train of Chopin, Bon Bravour and Don Massimo. With three victories at the CDN Herentals on 12 June 2011, this trio of horses has won their fourth consecutive Belgian young horse qualifier which counts as selection trial for the 2011 World Championships for Young Dressage Horses in Verden, 3 - 7 August 2011.
Dominique Mohimont and her Dutch warmblood Chopin (by Jazz x Zep) led the 4-year old division with a 74.855 score. Stefan Hollanders was closely on their heels aboard Frans van Hove's stallion Sir Classic (by Sir Donnerhall x Classiker). This duo received 73.829 points from the judges and referred Ronny Coenraerds on the Rhinelander bred Let's Rock VL (by Lord Loxley x Rubin Royal) to a third place with 72.658.
In the 5-year old division Tom Franckx-Goen and the Dutch warmblood stallion Bon Bravour (by Painted Black x Chronos) reigned supreme with their 78.088 score which left all competition leagues behind them. Dominique Mohimont and the Dutch warmblood Botticelli (by Vivaldi x Koss x Pion) were second with almost 10 points less on 69.863. Toby Horstin and the Dutch warmblood Bizzkit Lusan (by Sandreo x Osmium) were third with 67.875.
"I'm super happy with my ride on Bravour today. We won," Franckx commented. "There will be champagne for sure tonight."
Larissa Pauluis and her Oldenburg stallion Don Massimo (by Don Larino x Santander H) were rock 'n rolling in the 6-year old division, winning the trophy with 76.012 points. Stefan van Ingelgem and the Belgian bred Oldenburg Ariane's Razotti (by Romanov x Dream of Glory) were the runners-up with 74.000. Simon Missiaen and the Oldenburg stallion Rousseau's Topas (by Rousseau x Rohdiamant) were third with a fraction of a point less, 73.976.
With these string of victories both Bon Bravour and Don Massimo are certain of a Belgian spot at the 2011 World Young Horse Championships.
Photo © Astrid Appels
Results
4-year olds
1. Mohimont Dominique - Chopin - 74,855
2. Hollanders Stefan - Sir Classic - 73,829
3. Coenraerds Ronny - Let s Rock VL  - 72,658
4. Van Laer Nick - Hyrano - 71,342
5. Goen-franckx Erik  - Celene - 70,382
6. Van Hulsen Yehudi  - J2L Dark Chocolate - 70,066
7. Timmerman Mercedes  - QC Sir Henry - 70,000
8. Van Laer Nick - Sir Donovan - 69,842
9. Van Laer Nick - Fleury's Joyce - 69,066
10. Cool Isabel - Constand - 68,184
11. Missiaen Simon - Kirmen de Mars - 67,947
12. Dewaegenaere Ona - Calucci Utopia  - 67,789
13. Daeleman Ingrid - Lorenzo vd Wateringhoeve  - 67,776
14. Van Orshaegen Mario - Lorenzo Lamas - 67,605
15. Verhulst Thais  - QC So Special  - 67,184
16. Dries Mieke  - Bonavonturo vd Kempenhoeve  - 67,118
17. Hannes Jeroen - Chello - 66,829
18. Vettenburg Michelle - Happy Dance vd Burggrave - 66,605
19. Wouters Deborah - Hermes - 65,921
20. Van Der Borght Sylvie  - Hot Chocolat vd Kwaplas - 64,382
20. Horsting Toby - Hydane van de Kerkhoeve  - 64,382
22. Reyns Erika - Coryphee LM  - 64,145
23. Mendonck Katja - QC Delicious - 62,408
24. Van Gerwen Sofie - Hitchcock - 61,987
5-year olds
1. Franckx-goen Tom - Bon Bravour - 78,088
2. Mohimont Dominique - Botticelli  - 69,863
3. Horsting Toby - Bizzkit Lusan - 67,875
4. Van Ingelgem Stefan - Debussy - 67,725
5. Van Den Berge Deborah - Bitou - 67,088
6. De Vlieger Andre - Banner Man S  - 66,488
7. Daeleman Ingrid - Gorky G  -  66,250
8. Hannes Jeroen - Galliani Biolley  - 66,163
9. Heylen Tom - Gucci 'H'  - 66,013
10. Michiels Els - Gloria VD Wateringhoeve - 65,988
11. Veenstra Jenny - Samuel Hit - 64,463
12. Van Der Borght Sylvie - QC Rubert Redford - 62,313
13. De Reus Benjamin - Leoville las Cases - 61,938
6-year olds
1. Pauluis Larissa - Don Massimo - 76,012
2. Van Ingelgem Stefan - Ariane's Razotti - 74,000
3. Missiaen Simon - Rousseau's Topas - 73,976
4. Gielen-burger Verena - Maxifun - 73,202
5. Prevost Amandine - Lacoste - 71,369
6. Nyssen Wim - Ronda - 70,429
7. Dries Mieke - Fantast Van De Kempenhoeve -  68,905
8. Dewaegenaere Ona - Floris Van De Helle - 68,476
9. Roos Etienne - Fil Rouge - 67,869
10. Van Laer Nick - Don Matcho Vd Roshoeve - 67,155
11. Engelen David - Royal Rubinstein - 67,024
12. Dupont Melanie - Equifirst Paulus - 54,190    
Related Links
Triumvirate Chopin, Bon Bravour, Don Massimo Repeat Victory at 2011 CDN Flemalle
Chopin, Bon Bravour, Don Massimo Repeat Success at 2011 CDN Schilde
Chopin, Bon Bravour, Don Massimo at the Top at 2011 CDN Zandhoven
Belgian Young Horse Show Circuit Kicks Off at CDN Zandhoven
Belgian Qualifiers for the 2011 World Young Horse Championships in Verden